Flying with the Rich and Famous
The rich and the famous have always had some advantage when it comes to their lifestyles. Unlike regular folk, they are able to spend on premium services. If there's one luxury they don't have, however, it's privacy. This is why they are willing to pay high costs just to get it. Some people go for business class when flying commercially, while the A-listers make investments toward getting their own plane instead. Whether they're travelling for work or for pleasure, our favourite idols will always travel in style.
With that in mind, you can just imagine how lavish their vacations must be. You will hardly find these celebs in the usual tourist spots people visit! Instead, they take peace and relaxation a degree higher and opt for the most exclusive holidays their money can afford. Suffice to say, owning private jets and yachts really helps.
So, if you've ever wondered what your favourites might be up to during their holidays, let us clue you in. You might be surprised at how much personal island retreat!
John Travolta | Jet
Grease star John Travolta is not only a star onstage and onscreen but also in the air. As an aviation enthusiast, he frequently flies one of his personal planes and is also a licensed pilot. He even lives in an upscale neighbourhood where he has his own hangar and runway! The actor has spent a lot of investment money on this crazy-expensive hobby, but it's obvious that he gets plenty of enjoyment from it.
He owns an Eclipse 500 which he purchased for $2.15 million, a Boeing 707 which he got for $5 million, a Bombardier Challenger 601 which he got for $1.5 million, and two Gulfstream GII units for $185,000 each. With all these, he can even start his own chartered flight business! Travolta is one of those celebrities with a good heart. After the 2010 earthquake in Haiti, he flew his Boeing 707 with supplies and doctors to Haiti. He also founded the  Jett Travolta Foundation, which helps children with special needs, in honor of his late son.
Warren Buffett | Jet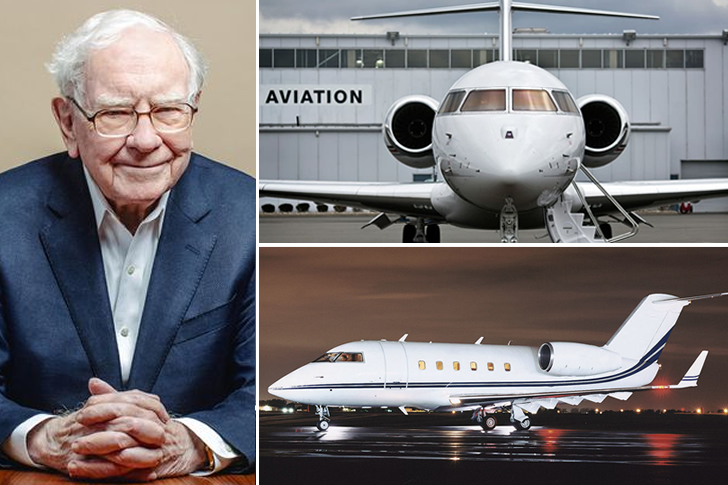 Investor Warren Buffett became the talk of the town when he looked down upon his fellow giants in investment planning for spending so much on private jets, on top of other ludicrous expenses. He has always been known to be the type who saved his money and did not waste his savings on things that were not necessary. He really lived up to this sentiment as even when he started earning more, he continued to reside in his old house in Omaha, Nebraska. This is a property that he got for only $31,500 back in 1985.
However, he shocked the world when he finally caved and bought a Bombardier Challenger 600 for $10 million. Maybe this was his plan all along, to invest his money in something that he dreamed of having since forever. Ever the funny guy, he even named the plane "The Indefensible", as if to poke fun at his own previous statements.
Tom Cruise | Jet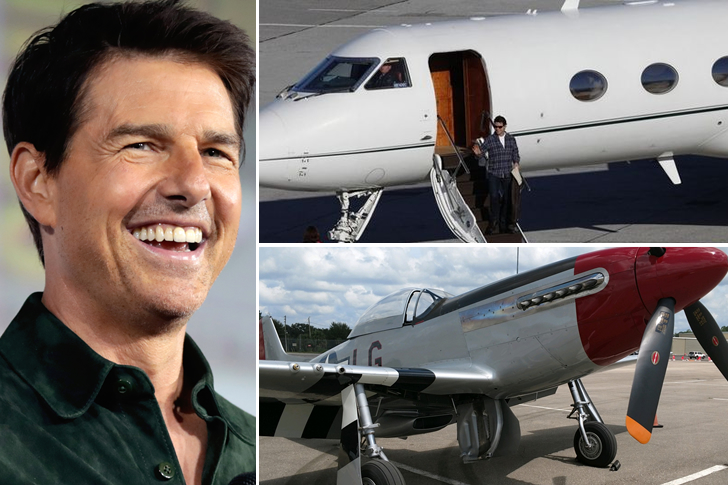 Tom Cruise didn't only fly high in the movies he starred in but also in real life, after he decided to get an actual pilot's license. It wouldn't have been easy, but in 1994, Cruise fell in love with flying so much that he took up classes in aviation. He later applied for a license so he could take to the sky whenever he wanted to. He owns a Gulfstream IV-SP and a WWII P-51 Mustang fighter plane. The actor made an investment of about $20 million for his planes, but his jets aren't like any other. Inside, there's a jacuzzi, a theater room, and an air filtration system that changes the air inside the aircraft every two minutes.
Cruise must have been inspired to try flying after his movie Top Gun. Cruise is set to star in the long-awaited sequel to Top Gun and the seventh Mission Impossible film. We can't wait to see if he performs his own stunts again!
David Copperfield | Island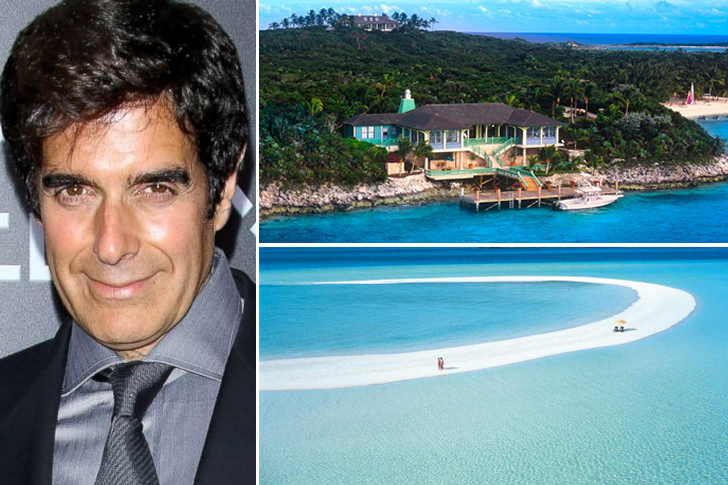 Famous magician David Copperfield may have some tricks up his sleeve, but there's no illusion to him owning his very own private island! It's as enchanting as it sounds. You'd be surprised how much a magician can earn for a living – but with David's case, not really. All he had to do was pull a trick and suddenly he was named one of the richest people in his field. He does his job so well.
He placed investment money amounting to$50 million in order to secure the gorgeous Musha Cay in the Bahamas. It sounds hefty, but given his billion dollar net worth, it likely didn't even dent his savings. Tourists can book the island as well, or stay in its luxury resort for a minimum of four nights for roughly $39,000 a night. If you have the money for it, then you should definitely consider staying in this beautiful and very private paradise! Judging by the photos, it is worth every penny you'll be spending.
Lenny Kravitz | Island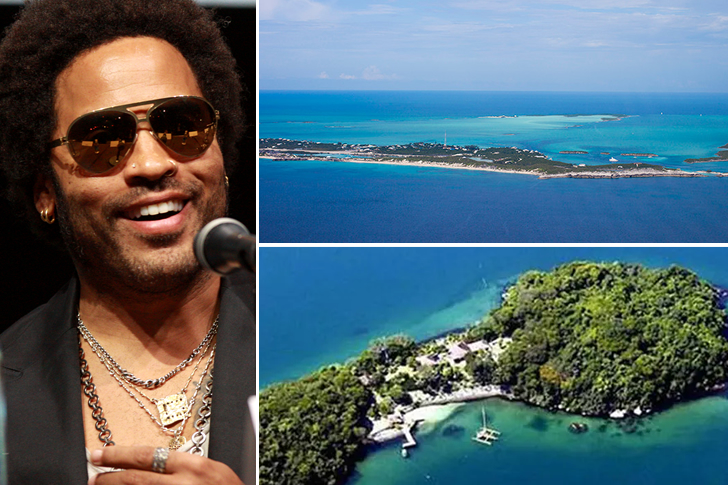 High profile personalities don't only crave tropical sceneries and luxurious services. Above all, what they really want is some peace and quiet that they can never get from the city. With the paparazzi everywhere and their fans wanting to meet them up-close, they almost never get a chance to live normally. This is probably why Lenny Kravitz bought a private island in the Bahamas as well.
Funnily enough, according to sources, he actually stays in a trailer instead of a hotel. Not a bad trade off if it means he gets to enjoy some privacy and some peace of mind. He also has a recording studio in the archipelago so that he can continue to do what he loves best in solitude – make music. Lenny is one of the most iconic artists of all time. Judging by his investments, he is one of the smartest too!
Jim Carrey | Jet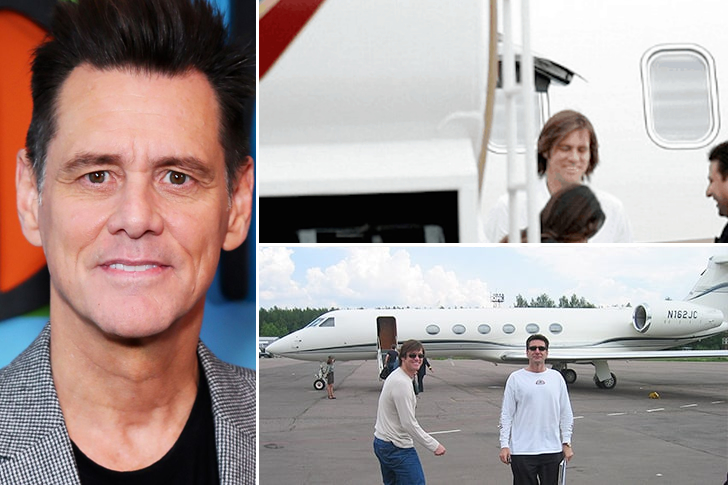 Actor and comedian Jim Carrey has earned a significant net worth thanks to his great talent in making people laugh. He has made a lot of movies that we still hold dear up to this day. With his money, he made an investment towards buying a Gulfstream V for $41 million. His jet is not only a transport system that can take Carrey anywhere in the world whenever he wants to, but it is also a symbol of class and status.
For those who want to ride Carrey's aircraft, you can also rent it for about $8000 an hour when he isn't using it. It's quite a lot of money, but given the luxurious experience you'll get, even for a short while, it certainly is a dream for a lot of people. Jim might have had some personal struggles in the past, but credits to him for choosing to live life to the fullest and invest on matters that can make his life much more colorful!
Sir Richard Branson | Jet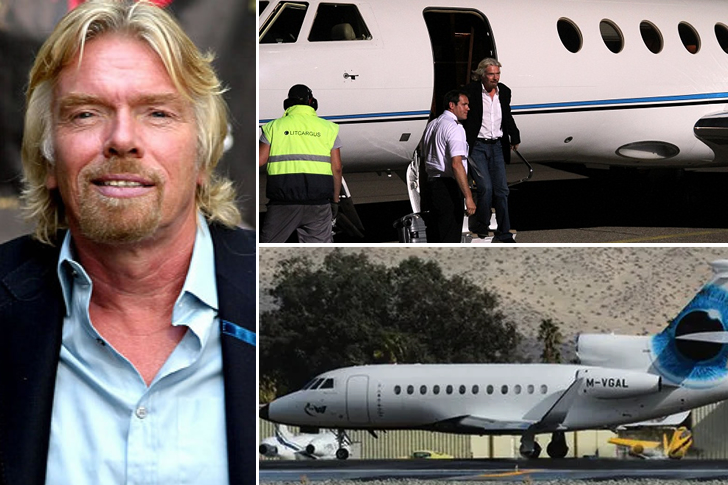 One of the perks of being one of the richest people in the world is that a myriad of options are always available to you. In this case, Sir Richard Branson does not only have options between which vehicles to use, but he also can choose between the two private jets he has access to. Some people only have trouble choosing which shoes to wear every day when going to work, but then again, Sir Branson is not just some people. He is a legendary businessman. Never one to fly commercially, Branson has his own Dassault Falcon 50 EX which he takes on his personal escapades and to his home in Necker Island in the British Virgin Islands.
However, when he has to fly for business, he can always turn to his own company, Virgin Atlantic. Good money management will always get you to greater heights. All his hard work has paid off and he gets to enjoy the benefits of his wealth.
Julia Roberts | Island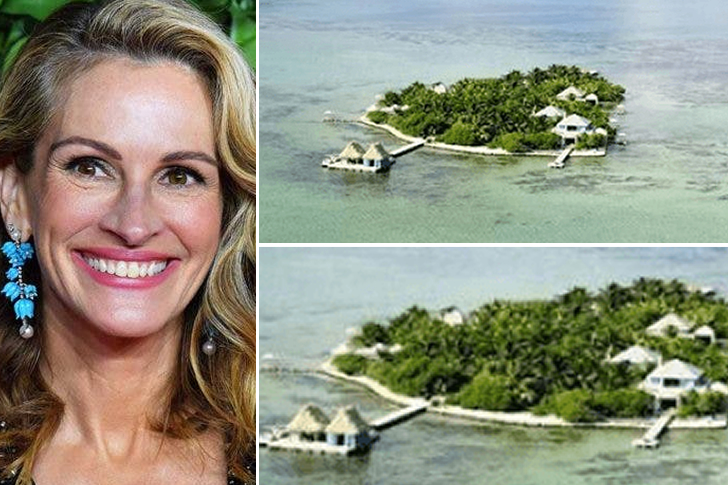 Julia Roberts wowed the world with her performance in Eat, Pray, Love and in Pretty Woman. As a result of these blockbuster films, she has managed to earn a whopping net worth of around $200 million. She earned so much from the different film credit she has received, that the actress was able to afford her own private island. Located in the Bahamas, this piece of paradise provides her with an escape and much needed solitude away from the hustle and bustle of the city. When she isn't filming, she is probably with her family or close friends on the island enjoying the sand, the sea and the sun.
She has not shared much about this purchase, but that is exactly why she wanted it in the first place—privacy. After all, Julia is one of the biggest names in Hollywood. Her contributions to the movie industry are priceless; she certainly deserves to have her own paradise!
Michael Bloomberg | Jet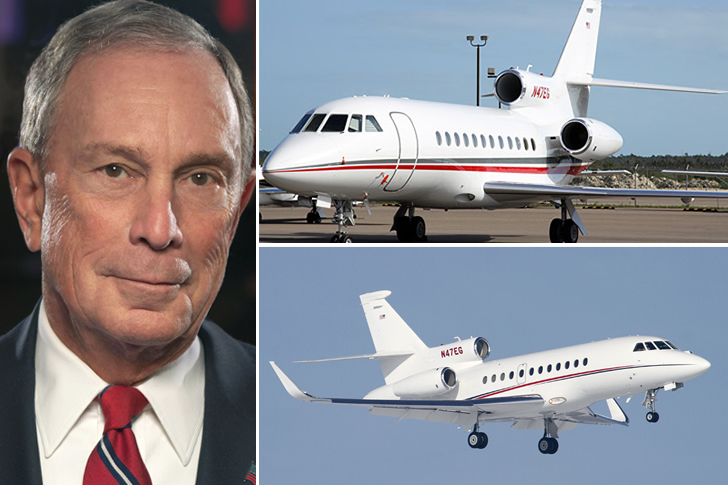 As the mayor of New York City, Michael Bloomberg was said to spend most of his weekends and free days by going on regular trips to his huge mansion in the Bermuda. Of course, he can only do so with a private jet that's ready to travel whenever he pleases. With a net worth of $54 billion, Bloomberg made the right investment on his fleet of aircrafts. This includes jet planes and helicopters, available at his disposal.
Since he is a high profile personality, it is understandable why he chooses to avoid commercial flights. Instead, he uses his Dassault Falcon 900 which he acquired for $42 million to fly him anywhere he needs to be. Whether it is for personal or business use, there's no denying that personal planes are, indeed, very convenient. They say New York is where dreams come true; well, for Mayor Bloomberg, it's the city where his dreams are flying – literally.
Gene Hackman | Island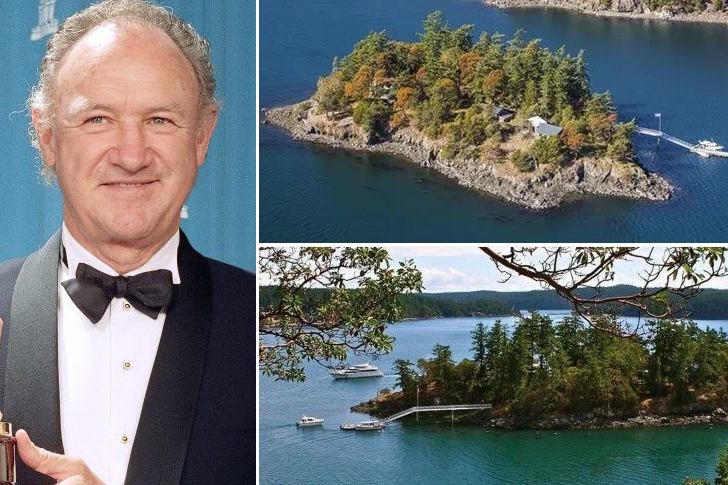 Gene Hackman sold his island for $3.9 million a while back because he wanted a place that was more secluded than his previous find. This is something that only the truly wealthy is privileged enough to do! As a part of investment planning for his retirement, he got one situated in British Columbia. Wanting to stay in his personal paradise for the rest of his days does not sound like a bad idea at all.
Since he has already spent a lot of time in the city, nearly most of his life, wanting privacy and access to one's own space is certainly a luxury. Most of us can only dream about retiring in our own island, but it's not that impossible with hard work and a bit of luck! Looks like Hackman had this plan in his head during his career all along. We must give him credit for not everyone can plan a retirement like him.
Jay-Z | Jet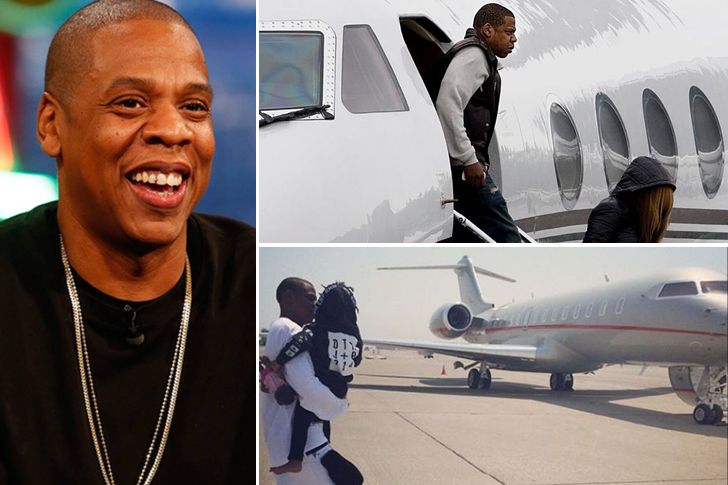 Music's royal couple Beyoncé and Jay-Z has always lived the high life. However, after Beyoncé gave birth to their first daughter Blue Ivy and Jay-Z became a new dad, they went a degree further. As a gift to her husband, Beyoncé got Jay-Z a jet plane for Father's Day! He's not just a proud dad, but also the proud owner of a Challenger 850 Learjet!
The aircraft can accommodate up to 16 passengers and has great amenities like a leather interior, master bedroom, two bathrooms and a kitchen. It looks like this couple doesn't only travel in style on land, but also up in the air! In return, Jay-Z also bought Beyoncé her own private island. They truly are relationship goals, right? They may have had some issues with their marriage at one point, but we're just glad they were able to work through it and come back soaring.
Cristiano Ronaldo | Jet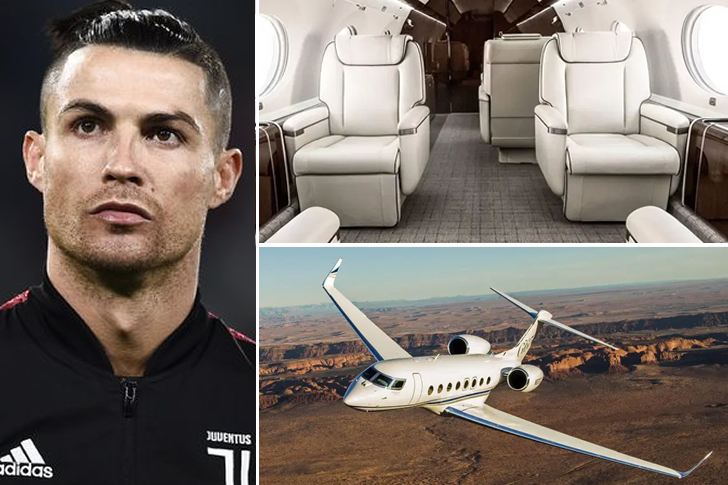 Getting credit for being one of the best athletes in the world certainly has its perks. Cristiano Ronaldo doesn't only have more than 150 million followers on Instagram, but he receives paychecks that amount to millions. According to sources, he signed a contract with Nike that was worth a little over $1 billion! That's more than enough for him to retire now and remain wealthy until old age.
Thanks to his earnings, he was able to buy himself a Gulfstream G650 jet that had a price tag of $45 million. The aircraft is sleek and classy, and has room for up to 18 people. His posts on his social media show just how much he gets to use his purchase so it's definitely a win for him. There are more than a dozen times when this star athlete surprised the world – his game points, his plans, his investments, his jet, and more.
Kylie Jenner | Jet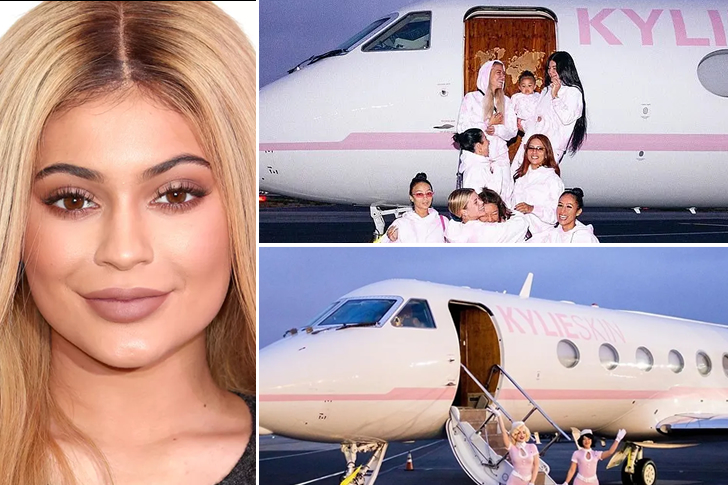 There's no doubt Kylie Jenner deserves credit for being a brilliant entrepreneur. Did you know she even turns her vacations into marketing opportunities? She's Forbes' youngest billionaire. On the day, she took her private jet and went on a trip with her gal pals. It was no simple trip, however. She customized every inch of the plane to promote her newest product, Kylie Skin.
The jet was made pink and "KYLIESKIN" was written on either of its sides. Inside, the interior followed the same color scheme and she even got the staff and her guests matching pink ensemble as well. She and her friends had on tracksuits—the height of travel fashion. It's nothing too grand, but it really created hype for her brand. Kylie is the most followed person on social media. In one of her platforms, she expressed that it's not easy being her sometimes. Just let us know which part of your life is difficult and we'd be glad to trade places with you for a day, Kylie!
Oprah Winfrey | Jet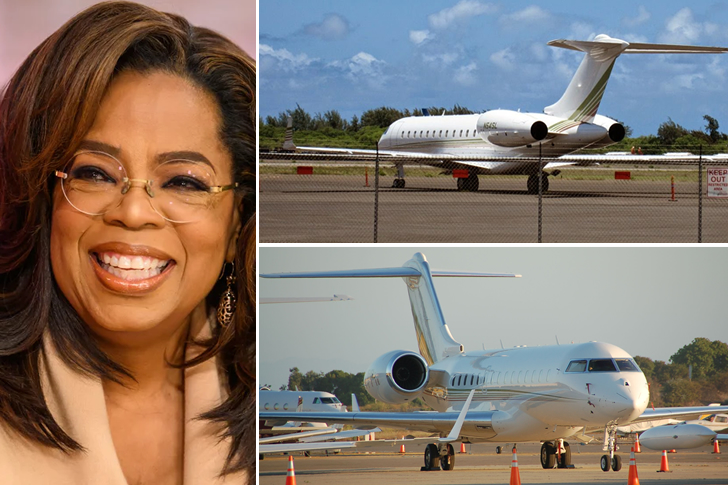 Being a self-made woman was truly a challenge for Oprah Winfrey but her success has become an inspiration to millions of people around the world. Now with a net worth reaching the billions, Winfrey shared in one interview with British Vogue that one of the greatest luxuries she has in life is having her very own aircraft. The first jet she bought was a G4, which had a price tag of $25 million. It actually took some time for her to wrap her head around such a purchase!
Her production company, Harpo also made an investment on another plane, a Global Express XRS VIP business jet which she also has access to. The interior is lavishly equipped with leather, a kitchen and a bathroom for all her needs. From being a personal assistant in Hollywood into becoming the world's most influential talk show host, Oprah sure can fly!
Celine Dion | Island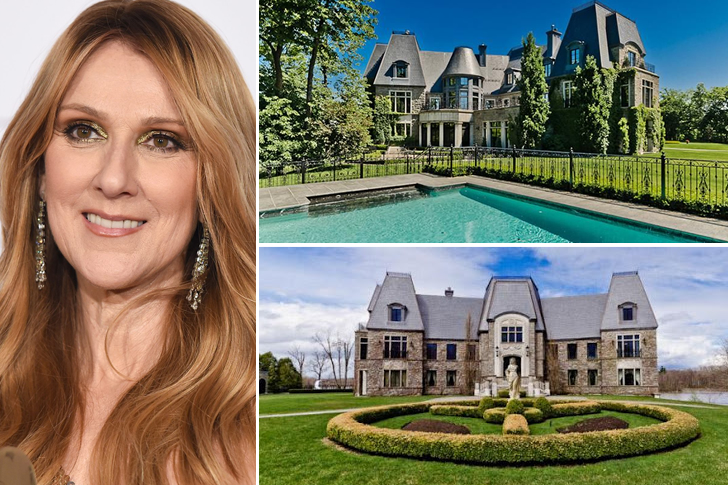 Iconic singer Celine Dion made the right choice when she started making investments in real estate, just as her successful career in the music industry kept reaching new heights. With a net worth that would impress anybody, she could easily afford prime properties around the world. This isn't just any old mansion, however. We're talking about her very own private island. She didn't choose an exotic location for her purchase and opted to stay close to home, which should make the island retreat more accessible to family and friends.
Located in Quebec, the beautiful property looks like it came out of a storybook. There is a castle-inspired mansion that has six rooms and nine bathrooms, all for the price of $25.5 million. Celine might have had struggles lately after the passing of her husband, but she made sure to invest more time in herself and thankfully was able to get back up on her feet.
Brad Pitt | Vintage Fighter Plane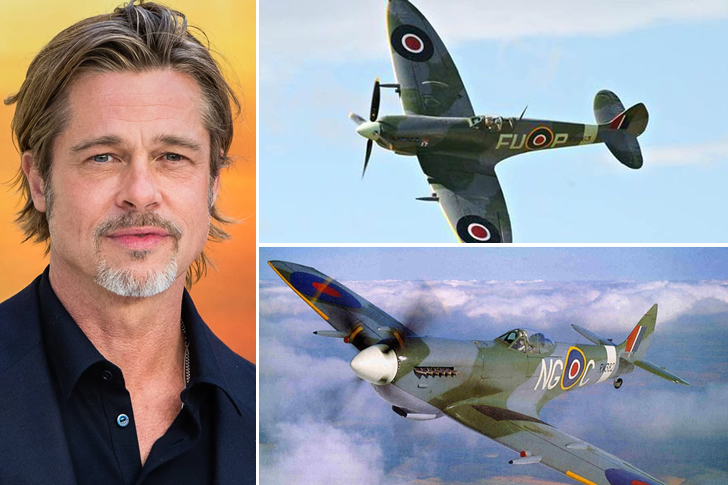 Actor Brad Pitt fell so in love with the role he portrayed in the 2014 movie Fury that he also developed a passion for historical aircrafts. He loved the tank he was working with on set, but since he couldn't purchase one for himself the actor opted for the next best thing: a vintage fighter plane. Pitt spent a reported $2.47 million for his very own World War II Spitfire. This one has propellers and is far less advanced compared to other jets, but what it does have is plenty of history.
Because he learned to fly while shooting the film, he continued his progress and actually got himself licensed. We sure hope he has proper insurance, though! Flying can be a risky hobby. Brad is one of the biggest names in Hollywood. From Jen Aniston to Angie Jolie to his plane – Brad knows how to pick them!
Floyd Mayweather | Jet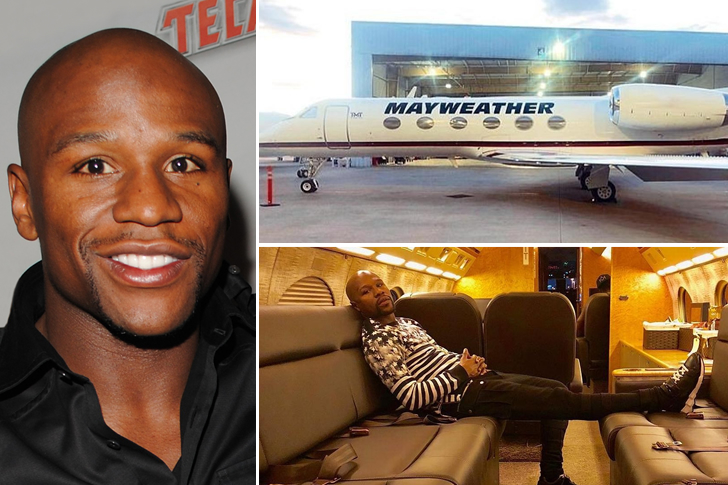 World boxing champion Floyd Mayweather is still living the celebrity life, even after he retired from his successful boxing career. This is thanks to his numerous wins and the fact that he can make up to $100 million for just a night of fighting. The huge net worth he has earned through the years allowed him to enjoy a very luxurious life—which he is well known for. He also bought a private jet for himself, which is reportedly worth $600 million. Some thought that the jet he rides was chartered but he quickly dismissed this, saying that the plane was his own investment.
Not everyone can afford a private aircraft, but an athlete with his reputation and his stature would have no problem getting one. His not so long ago fight with world champion Manny Pacquiao was one of the factors to his close call to a retirement. He might have redeemed himself, but this legend knows how to stop when he's still on top.
Bruce Dickinson | Jet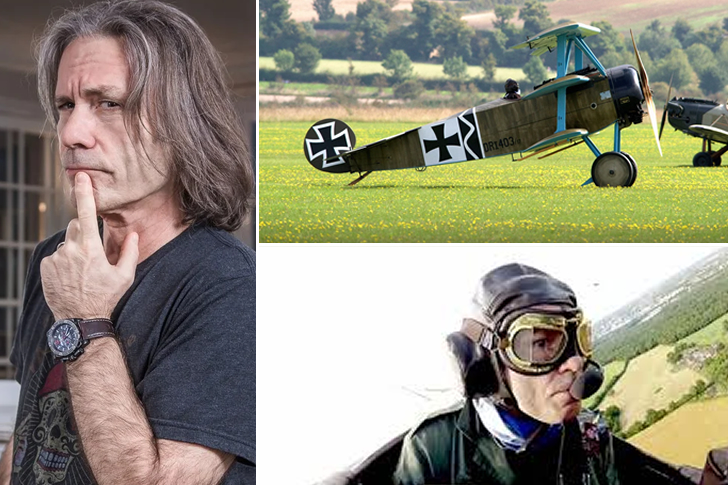 Former Iron Maiden front man Bruce Dickinson amassed a huge net worth during his time in the music industry. After music, he decided he wanted to explore the skies and trained to be an aviator. He is known to be really passionate about planes so he even worked as a pilot for Astraeus, an airline in Iceland that no longer operates today. Given his interest, it comes as no surprise that he put investment money toward getting his own aircraft.
He has a replica Fokker Dr1 403/17 triplane for his own use. He is affiliated with Aeris Aviation as its chairman, with Airlander Project as an investor, and with UK Charity Flying Scholarships for Disable People as its current chairman. This English rock star didn't just make a single titled Dracula, it seems like he's living his life as a vampire since his looks and his investments are immortal.
Leonardo DiCaprio | Island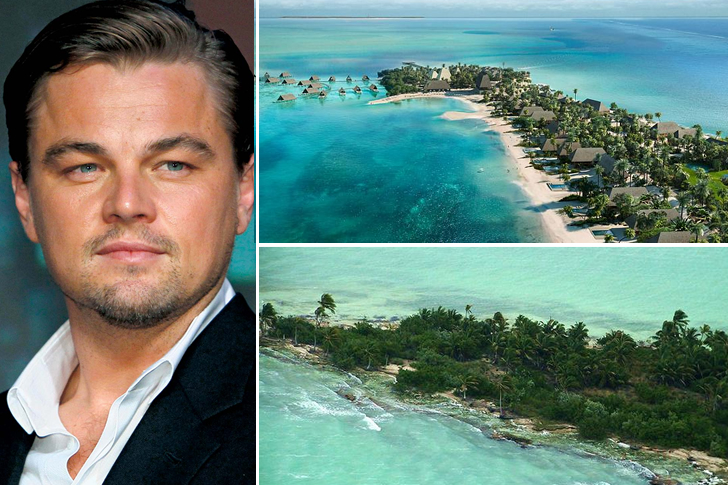 Leonardo DiCaprio deserves credit, not only for his great performances in all his blockbuster movies, but also for his care for the environment. With his hugely successful career, he was able to amass enough money to buy a private island for himself. However, unlike other mega-millionaires, he made sure that his next entrepreneurial pursuit would be eco-friendly. His island in Blackadore Cay, Belize has a couple of villas that make up a resort-like complex that was custom-made to be both sustainable and also environmentally-friendly.
For the price tag of $1.75 million, DiCaprio acquired the place and is planning to open up the development to the public soon. Many of his fans would surely be interested to spend a weekend there! Leo is one of the biggest names – if not the biggest name – that Hollywood has ever had. He's given us the most brilliant performances on screen and his contribution to the anti-global warming matter is outstanding. He deserves as many islands, jets, castles, and Titanics as he wants.
Larry Page | Jet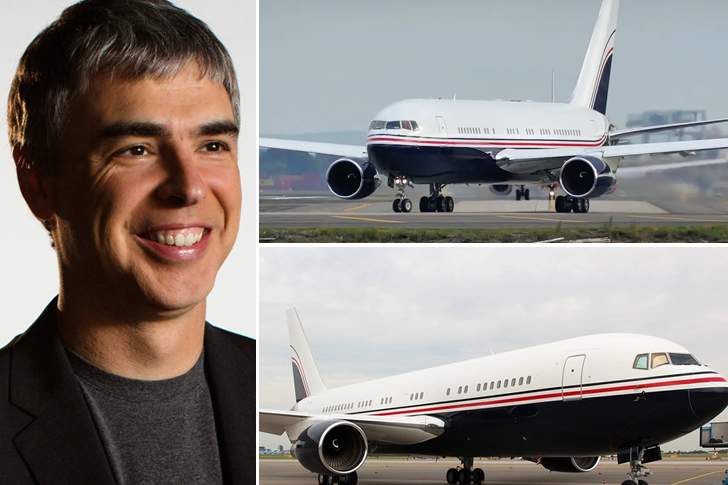 As the founders of tech giant Google, Larry Page owns the Google Plane with Sergy Brin. From its initial capacity of 180 passengers, the two had the aircraft customized to seat only 50. Though it can accommodate less people, hammocks from the roofing were installed to make sure that their guests have a fun and one-of-a-kind experience. The jet is actually a Boeing model that was equipped with the entire latest tech created by the company.
The plane can also carry a total of 6 full-sized cargo containers so it is plenty handy when big deliveries need to be made to different offices or places around the world. The Google Plane also has access to the military runway in Silicon Valley, Moffett Field. This happy looking fellow is not just a world-renowned scientist; he is a great and loyal family man as well. He deserves this clever investment.
Pamela Anderson | Island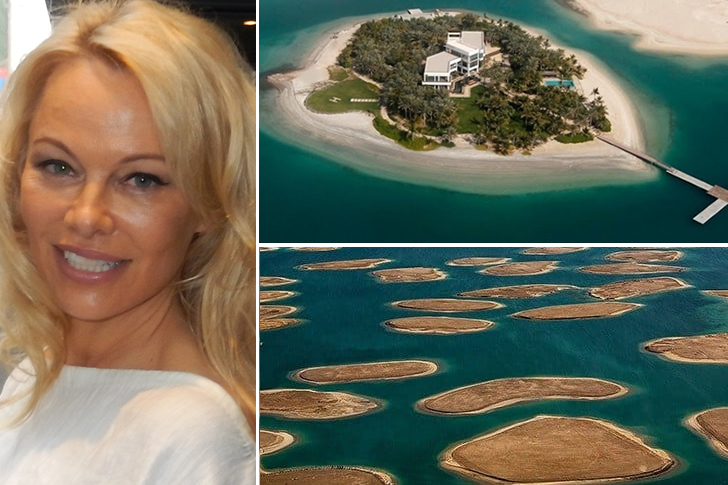 If you think Pamela Anderson is just a sexy movie actress with blonde hair and perfect body structure, perhaps with just makeup and hair products on her mind, think again. This iconic actress got her breakthrough role when she starred in the hit TV show Baywatch, but also gained further popularity after she was cast in VIP and Home Improvement. She was one of the biggest stars of the 80's and the 90's so it is no surprise that she was able to afford her own private island!
Together with her former husband Tommy Lee, they bought this beautiful island in Dubai. Part of her investment planning scheme was to initially put up hotels there and make it a tourist spot but because of some money problems, sources say it did not push through. Nonetheless, it is no easy feat affording one, so we hope she can turn things around and push through with the resort!
Bono | Jet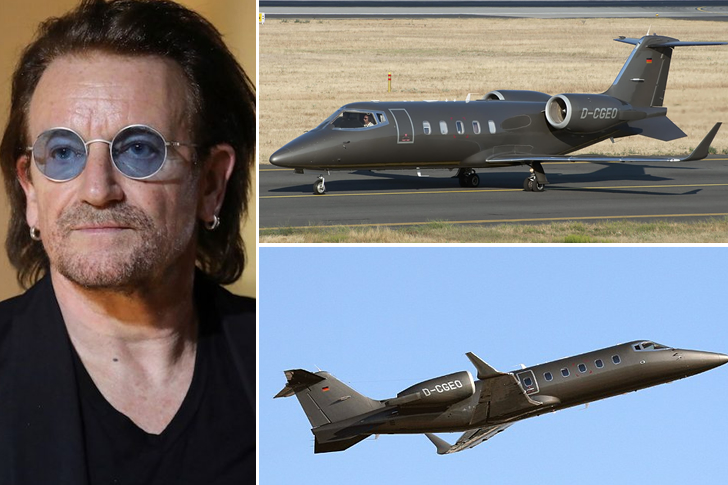 It was in 2014 when U2's front man, Bono, and his private jet made the headlines. The musician owns a Learjet that he uses to travel to and from his concerts, tours, and other private getaways. There was even a time, while on his way to Berlin,Germany for the Bambi Awards, when one of the aircraft's doors opened and imminently got detached while they were in the air!
According to ABC News, the fallen door was for the luggage cabin so nobody got hurt during the flight. It only proves how risky flying can be, even if it's your own plane. It's a good thing all of them are covered by their insurance company, because you can never predict what might happen during flights. Even Diane Keaton has a huge crush on Bono, as she revealed in an interview with Ellen DeGeneres. Well, we can't blame her. Bono doesn't just have the personality; he's got the gift of investment discernment as well.
Tiger Woods | Jet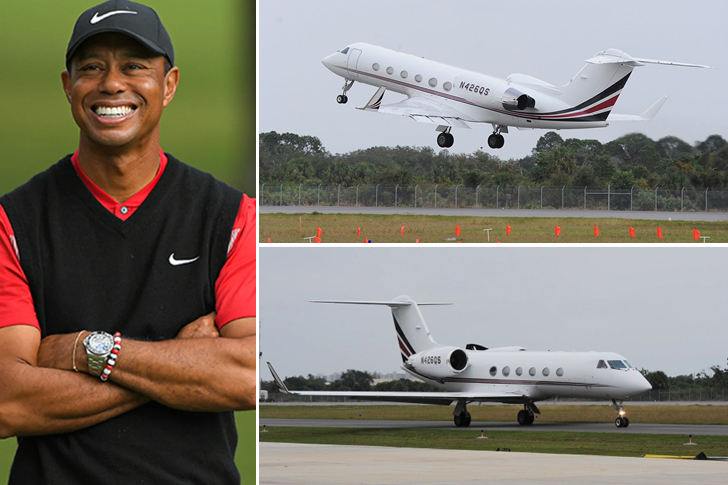 Golfing superstar Tiger Woods is one of the most successful athletes in the world. He has won many tournaments in his career and many of his fans fell in love with him because of his talent in the sport. Of course, given his reputation and his success in money management, he was able to acquire a private jet for himself. Other than his athletic career, he also has a ton of endorsements so he continuously receives pay checks.
He has to travel often, so it was certainly a good move for him to purchase his Gulfstream G550. He'll be able to go to different points in the globe with ease. He purchased the plane for $50 million and reportedly goes to his games in it. Even from the start, we never thought that it was big of him to name himself Tiger. He is unstoppable in everything that he does and decides.
George Clooney | Island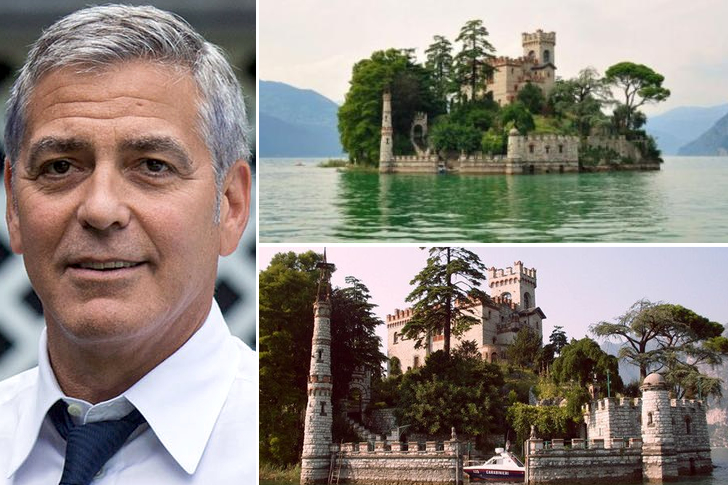 George Clooney and his wife Amal purchased an island located in the English countryside. They must feel like characters in a storybook whenever they're spending time there! Located in the middle of the island is their mansion, which cost $10 million to build. Its design is a great fit with the surroundings, creating unmatched opulence. It comes complete with amenities like swimming pools, a home theater, a huge terrace and a lot of lush trees.
The island is surely a sanctuary for the high profile couple. After all, both do experience quite a lot of stress with their careers. With this kind of space to reside in, a great home security system must be in place so as to make sure that their family lives in peace. Clooney is one of the biggest names in the history of Hollywood. He was a bachelor for maybe a bit too long. Little did we know that he invested his time in finding the perfect woman, much like what he did with his island purchase.
Harrison Ford | Jet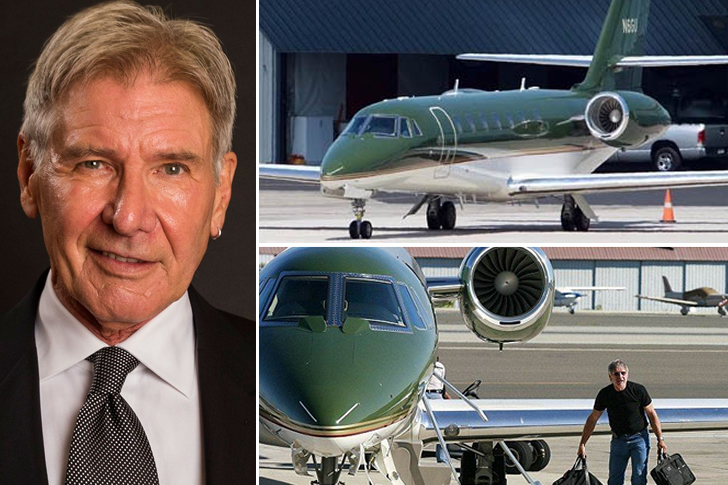 Star Wars actor Harrison Ford is a licensed pilot who just can't get enough of aviation. He even made investments on a Cessna 680 Sovereign Jet that he purchased for $18 million, a Grand Caravan turboprop plane, a 1929 Waco Teperwing biplane that can open at the top, a two-seater Aviat Husky, a 1942 PT-22 monoplane trainer that is also an open-top, a De Havilland bush aircraft, and a Bell 407 helicopter.
While his fleet is obviously impressive, what makes the actor even more inspiring is the fact that he learned to fly when he was already 52 years old! He found peace of mind in the skies, saying that when he's up in the air he's just another pilot and not a movie star. It looks like our very own Indiana Jones found his Ari Force 1 and won't be having trouble flying to the places he wants to explore next.
Paris Hilton | Jet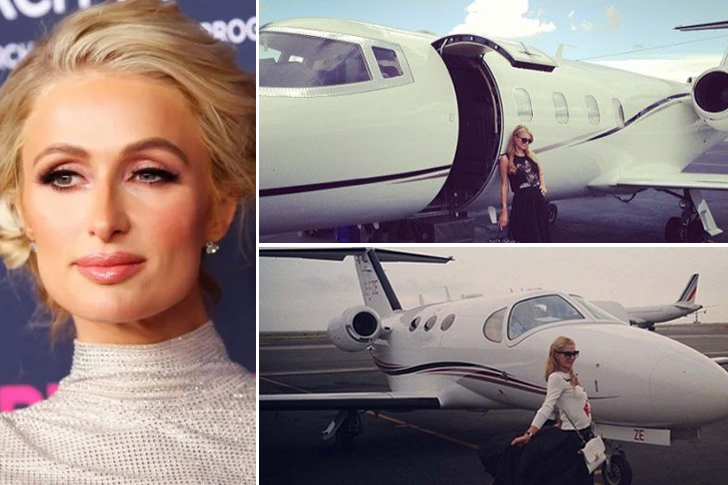 Paris Hilton is one of the richest people of the world. The heiress, model, and media personality doesn't think twice about flaunting her stylish designer outfits and her expensive properties. She actually flies commercially – in business class, no less – but she apparently also has her very own private jet. On her social media account, she posted photos of her and her sister Nicky Hilton striking a pose with their plane. She uses her jet so much that she has gathered a lot of criticisms from eco warriors because of the amount of carbon emissions she produces in all her travels.
We're not sure whether she has accommodated environmentally-friendly additions to her plane, but we sure hope she considers the investment! Paris was always one of the richest women who can afford the priciest designer clothes and shoes. Now, she showed us that she bought something of so much more in worth.
Karolina Kurkova | Island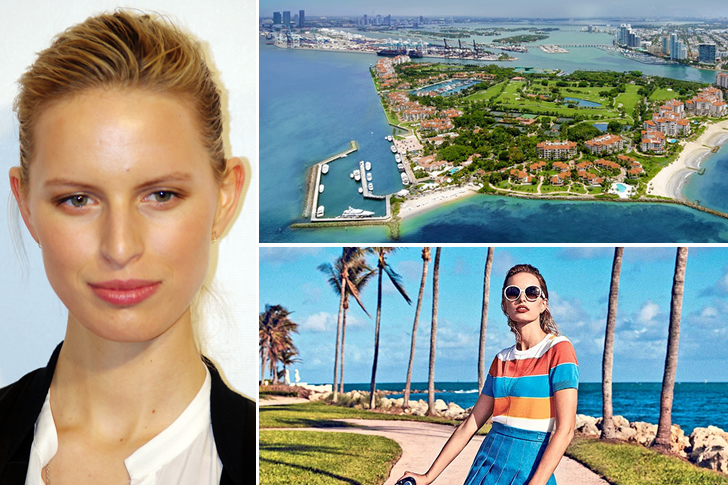 Czech supermodel Karolina Kurkova found home in Fisher Island off the coast of Miami. She and her husband Archie Drury purchased the island to raise their sons Noah and Tobin in. Even though it's a nice retirement plan and clearly for family use, we can't help but picture the supermodel in her swimsuit runway days on her very own island. They wanted an estate that was surrounded by nature, but wasn't too far from the city where they work.
Fisher Island was a great deal for them because it offered privacy and isolation, but also ample accessibility. Their property is 200 acres in size and can be reached via boat ride from MacArthur Causeway. This must mean they have also purchased a boat for their private use! Given their location, we're sure they also have state of the art home security installed around their home to make sure they stay safe as well.
Amitabh Bachchan | Jet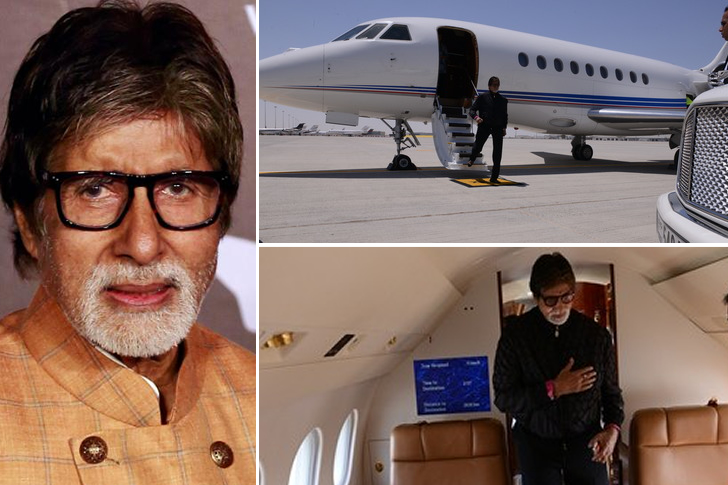 Bollywood star Amitabh Bachchan has been in the movie industry for more than 50 years. He has made more than 190 films in India and has amassed a net worth of roughly $400 million. Sources say that he is treated like royalty because of his contributions to Indian cinema, and the greatness of his reputation.
With this kind of lifestyle, it is only fitting that he has his own private jet. He could fly wherever he wants to and not have to worry about lacking privacy. Film enthusiasts all over the world give him credit for being one of the best actors for this century. It's a heavy title to carry, but one that he truly deserves for Bachchan never ceases to impress with his performances. Bollywood certainly has an eye for talent and beauty, much like Bachchan has an eye for wise investments and retirement plans.
Ralph Lauren | Jet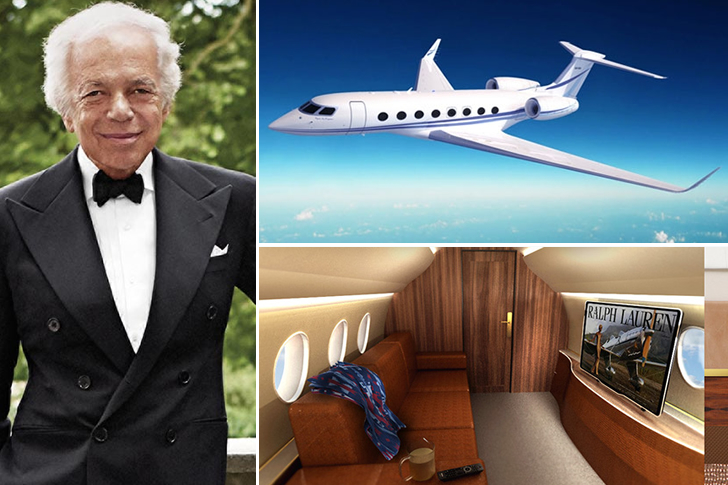 Fashion mogul Ralph Lauren has a private jet too, of course! He is a name that majority of people in the world know. He is also a name which won't be forgotten anytime soon – or, ever. He owns a Gulfstream G650 that he acquired for a sum of $70 million.
The plane can accommodate up to 12 guests at a time. It's highly fashionable interior was designed by Lauren himself. A single seating area was created expressly for him and his wife Ricky Lauren, while dual seating for family and friends were placed behind them. A sofa bed that can be turned into a sleeping, sitting and meeting area whenever needed is also a part of his design. Even the control board was inspired by the dashboards of Lauren's collection of vintage cars. With his accumulated net worth of $6.45 billion, no investment is impossible!
Morgan Freeman | Jet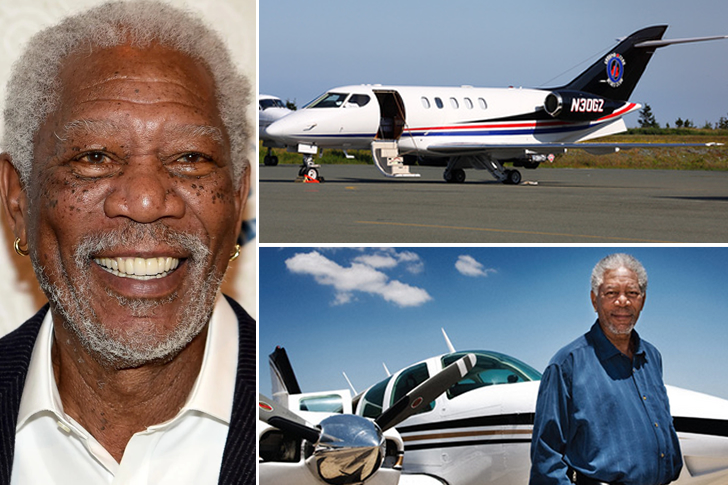 He has had interest flying since he was a school boy, but it took actor Morgan Freeman some years in order to make his dream happen. In fact, it was this ambition that motivated him to join the Air Force. Eventually, he landed a great career in Hollywood and through his success in acting; he amassed enough funds to make an investment toward his own plane. He learned to fly for the first time in 2002 and soon acquired a Cessna 414 and a Cessna Citation 501.
Truly an inspiration, Freeman never gave up on his childhood dream. In 2015, he even faced a near-death situation when his plane swerved off the runway. Fortunately, no one was hurt and he's still flying to this day. As versatile as Freeman is in his roles, he has also picked up a transportation which is versatile to adapt to all his future travels.
Tyler Perry | Island (DUPLICATED ITEM, DIFFERENT CONTENT)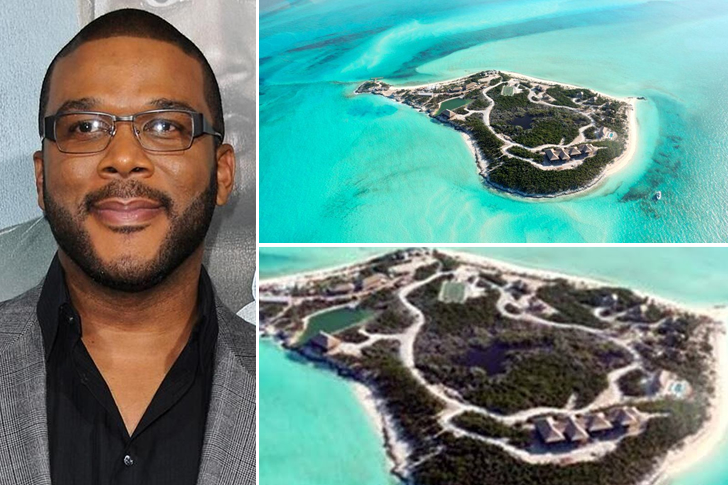 Film-maker Tyler Perry sure knows how to vacation. With the sun, the sand, and crystal blue water, who wouldn't want to enjoy one's holiday for as long as possible? In fact, he enjoys it so much that he purchased White Bay Cay in the Bahamas. It is home to his mansion, as well as the cottages meant for his friends and family to stay in when they're visiting. The 25-acre island also houses a spa and a marina.
There is no clear amount as to how much investment money he placed on acquiring the property but it probably cost millions. This shouldn't be a problem for Perry, however, given that he has earned a significant net worth over his years in the industry. Filmmaking is no joke, so is retirement. Tyler knew what he was doing in both fields and for this, he should have all of our credits.
Michael Jordan | Jet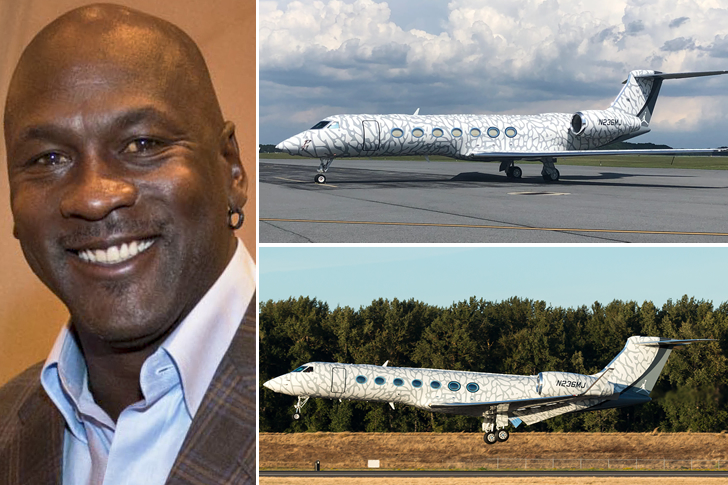 Michael Jordan used to be one of the highest-paid NBA players during his time, which isn't surprising given his talent and popularity. He got his huge net worth, not only from his athletic career, but also from the numerous endorsement deals he had while playing. He earned around $93 million from basketball in total. With this money, he was able to buy a Gulfstream G550 jet plane. It was white and blue when he acquired it, to honour University of North Carolina, the school he got his degree from. However, he jazzed it up in 2017 with elephant print.
The aircraft alone cost him $61.5 million, but since he had it customized, it is expected that the price tag on it has increased. MJ is probably the biggest name in basketball, credits to his sports skills and his iconic shoes. Even with all the investment and the jet he's owned in life, MJ remains humble and a loyal family man at heart.
Elvis Presley | Jet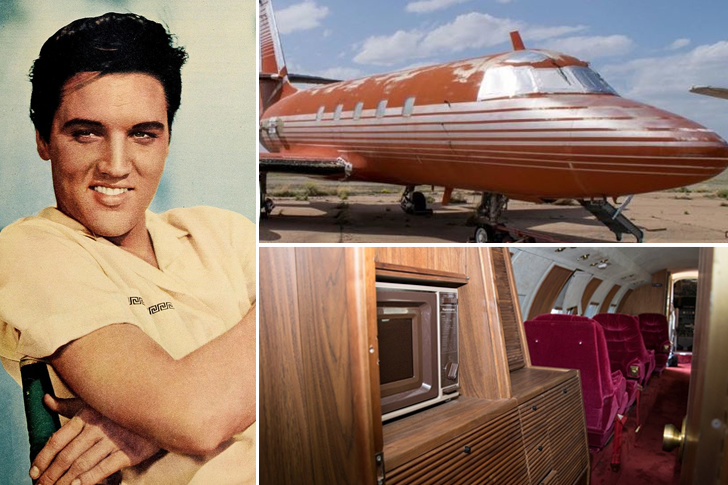 Elvis Presley was an icon who has managed to influence many artists both new and old. Even to date, his style and his music are still recognizable to the younger generation. Did you know that back when he was still touring, he actually had a private plane too? It's very impressive since back in the days, not many people could afford this; but then again, if you're the king, nothing is impossible. Presley bought a Lockheed Jetstar back in 1962 and it is such a funky masterpiece.
The interior was reportedly designed by the singer himself. It featured wooden panels, red velvet chairs with cup holders in their armrests, and a shag carpet on the flooring. There was also a living room with a television, a small kitchen, and a grand bathroom with red velvet curtains. The beautiful vintage plane was shared by Presley with his father Vernon Presley.
Steven Spielberg | Island (DUPLICATED ITEM, DIFFERENT CONTENT)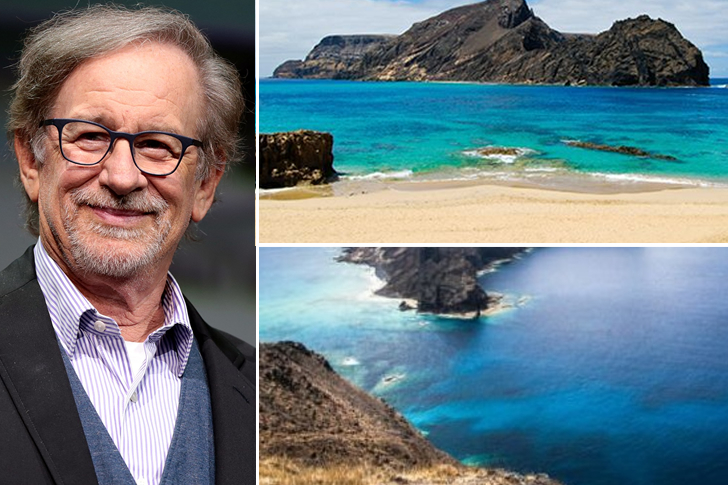 Being one of the greatest filmmakers of his time certainly has its own perks. Steven Spielberg did not attain only fame in his work, but also a great deal of fortune. All credits to his money management skills and wise decisions, he was able to acquire the paradise of his dreams. His net worth allowed him to acquire not one, but two islands in total. Most people can only dream of having their own private island—let alone own two!
His islands are located in the Madeira Archipelago where he goes whenever he needs some time away from the city. He also brings family and friends here to relax, so they can spend some quality time together. In addition, Spielberg made an investment on a superyacht that takes him from one island to the other. It sounds like he's really living the Hollywood dream!
Dwayne Johnson | Jet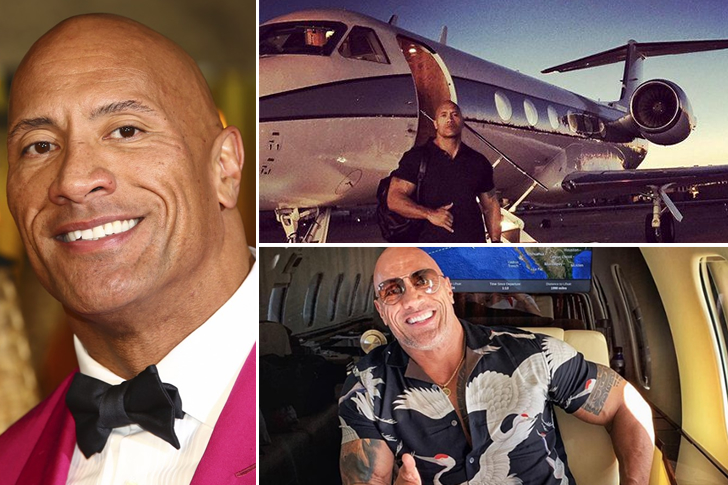 The classic rags to riches story will never cease to inspire people all over the world. This was the case for Dwayne "The Rock" Johnson when he first started to join the entertainment industry as a wrestler. At the beginning of his career, he used to only have $7 in his pocket. So, to give tribute to that moment, he named his first investment, Seven Bucks Production Company. He has come such a long way from barely having anything. Now, he has his own private jet to go around the world in!
When he has to film in certain locations, has shows in different parts of the world, or just wants to take his family out for a vacation, he can do so in style. From wrestling to acting to now, a jet owner, and an owner of so much more, Dwayne said that his most priceless possession still is, and forever will be, his family.
Sergey Brin | Jet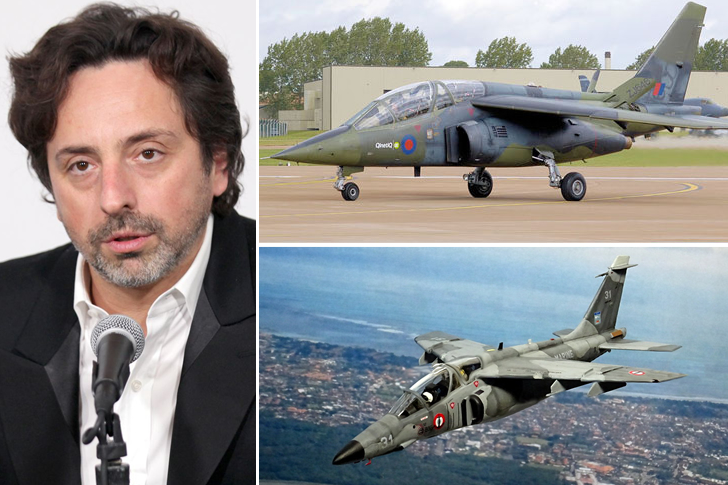 Other than the awesome Google Plane that Sergey Brin shares with Google co-founder Larry Page, Brin also has his very own Dornier Alpha fighter jet. The aircraft was designed by German company Dornier and French makers Dassault-Breguet. The airplane has a wing span of more than 29 feet and is 13 feet and 9 inches tall. Since the plane was made for war and not for leisurely travel, it is equipped with all the things you need to keep track of the atmosphere around you when flying. This way, the pilot can really tell when he's at a safe zone.
It's a good thing that Brin is a billionaire because a toy like this in his collection would need a lot of insurance. Earlier on this list, we came across the name Larry Page. Both gentlemen have been working hand in hand as scientists to improve our computer world. They both deserve their own jets for their contributions to technology.
Naomi Campbell | Island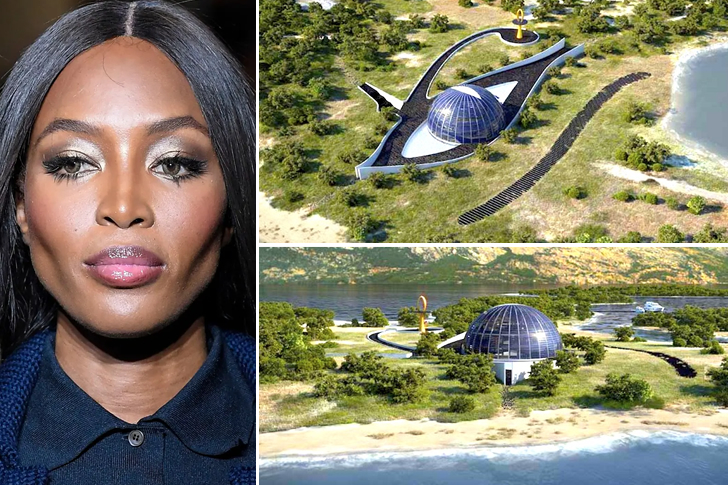 Being one of the most beautiful faces in the industry has its perks. Naomi Campbell has always been one of those girls who receive endless credit from both fans and her peers. From the most handsome to the wealthiest, her admirers are certainly plenty. According to CNBC, one of her suitors actually gave her an estate on a private island as a gift.
Located in Turkey, Campbell's villa was designed by Architect Luis De Garrido. Not only is the beautiful beach house in a prime location, but it is also made with eco-friendly materials and was created in a way that made residing there energy-efficient. She can enjoy her privacy as she relaxes by the coast, soaking up the sun with her already perfect bronze skin! If looking like Naomi can get us an island, then we'd better be hitting off the gym sooner than we've planned. This supermodel is admirable in all aspects of her life!
Steven Spielberg | Jet (DUPLICATED ITEM, DIFFERENT CONTENT)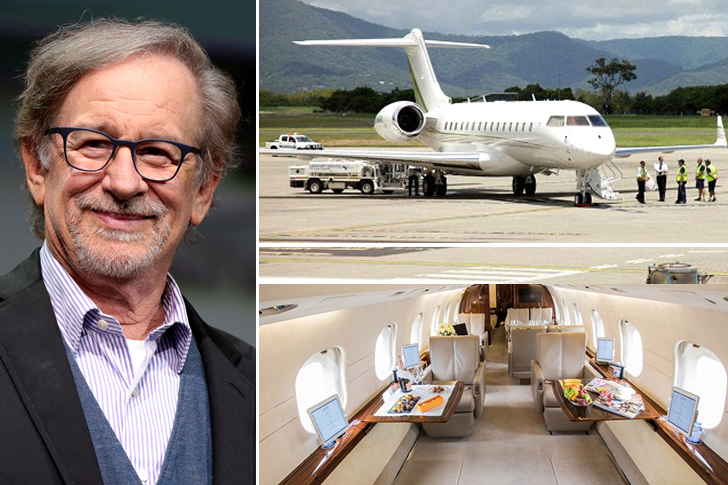 A prolific film maker, Steven Spielberg has really been reaping the benefits of his hard work throughout the years. Not only does he have lavish yachts, mansions, and his own private island, but he also has a private jet! This director really has it all. He made an investment on a Bombardier Global Express XRS to help him get to all the locations that he needs to be in for filming, location hunting, or just going on vacations. Sources say that he spent a total of $42 million on the aircraft.
The plane can seat up to 14 guests and can fly nonstop for up to 16 hours to up to an altitude of 51,000 feet. He can cruise the sky if he wanted to! All credits to his imagination and legacy that has affected so many lives and has changed the movie industry forever.
Eddie Murphy | Island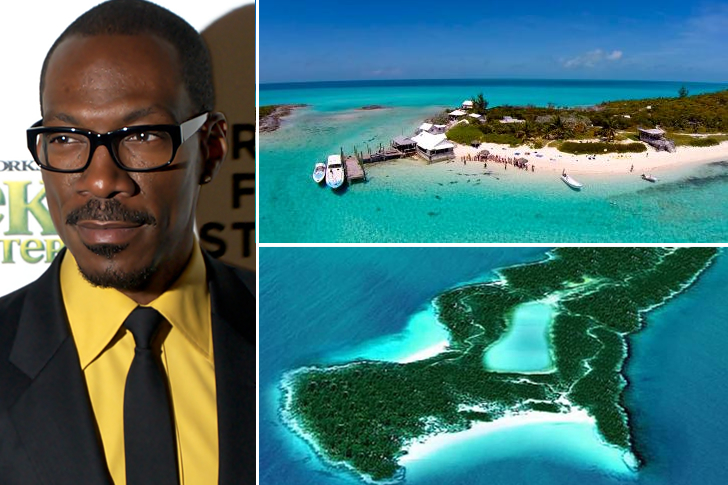 Once you have a net worth in the hundred millions, anything is possible! Actor Eddie Murphy certainly is living the life of a movie star. When he decided his first private island was not big enough, he bought another one in the Bahamas in 2007. Called the Rooster Cay, the island is six hectares in size and is worth $15 million in investment money. This amount was not a problem for the actor, so he made the purchase even though the maintenance of the island probably costs more than its actual price tag.
He usually goes there to spend time with his family and friends. Away from the busy life at Hollywood, they can relax and enjoy the tropical scenery. This phenomenal actor might be funny in his movies but in real life, he is not joking at all, especially when he planned to make an investment for his future with his very own version of paradise!
Tyler Perry | Jet (DUPLICATED ITEM, DIFFERENT CONTENT)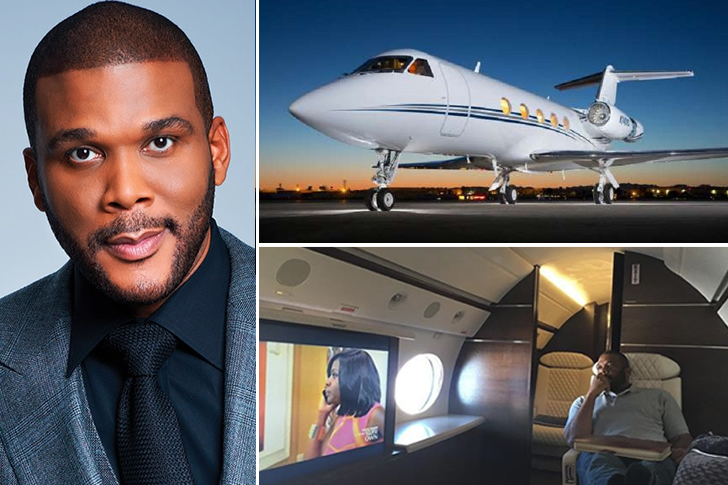 Celebrity Tyler Perry will not be left out in the jet plane scene. He, too, owns a plane worth boasting about. His Gulfstream III has great amenities like a kitchen galley, a conference hall, and automatic window shades. Its main entertainment room is equipped with a satellite TV, and a 42-inch screen with additional cinema-like lighting. We're sure it's plenty fun having movie nights with his family while cruising the skies because it's so cozy in the cabin!
Perry usually uses his plane to go to and from work locations, but he also takes his loved ones up there with him when they have to travel somewhere. It's a good thing that the plane is covered with insurance in case anything happens. This shows us that Tyler is not just a man of many talents; he is man of many assets and properties as well.
Rupert Murdoch | Jet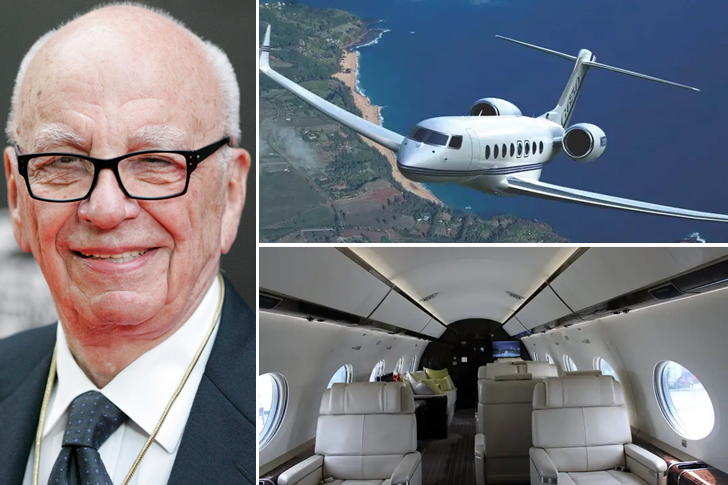 Media personality Rupert Murdoch is one of the wealthiest men in the industry. He has purchased the top-of-the-line Gulfstream G650 – one of the best jet planes in the market. Since money is not a problem for Murdoch, he had no trouble acquiring the best for $84 million.
Let's talk facts. His plane has a world record credit for being the fastest civilian plane to circumnavigate the world in 2013. It did so in only 41 hours and 7 minutes! On top of this, it is also one of the biggest aircraft models currently available. The model is obviously something very valuable because even the tycoon had to be placed in the waiting list for 3 years before he finally got the plane. From the looks of this plane, and from the looks on Murdoch's happy face, it was totally worth the wait!
Lebron James | Jet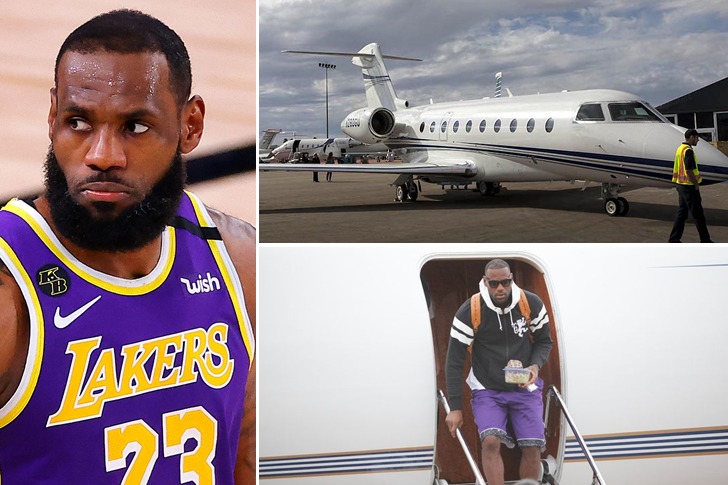 As one of the most popular athletes in the world, Lebron James owns a Gulfstream G280 that he purchased for roughly $22 million. Being one of the highest earners of NBA gave him access to certain luxuries, but James is popular for putting his family before all else. His private jet is up for chartering when he isn't using it so that he can make more money through his purchase.
It also allows him to spend more time with family as well. He has even used it to get home in time to watch his son play! This degree of effort to stay present in his kids' lives despite his busy schedule is inspiring and very sweet! It just makes his multi-million plane all worth every penny. Lebron has already broken so many records in his career. One of these records was owning a super expensive jet at a very early point in his career! Somebody say "defense"!
Marlon Brando | Island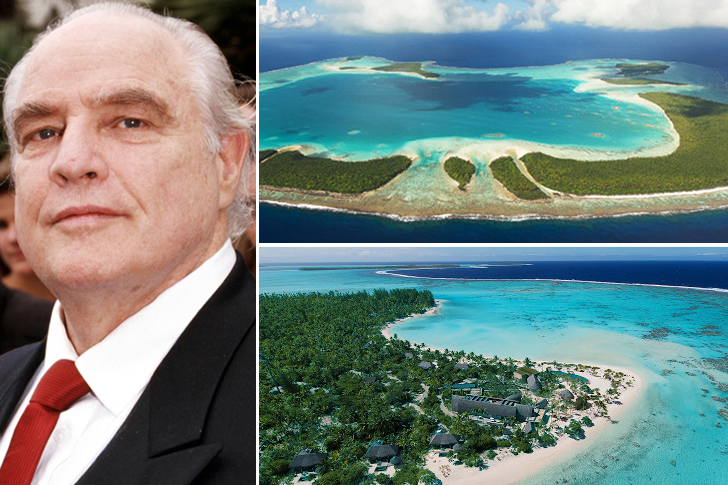 Mutiny on the Bounty gave more than just fortune and fame to Marlon Brando. He also fell in love with Tahiti during the entire filming process. Because of his great admiration for the place, he made and investment on the atoll named Tetiaroa. He put up The Brando Resort that featured amenities including 35 lavish villas, a spa, restaurants, a fitness center, a swimming pool and a gorgeous beach. The resort also offers water activities like scuba diving and snorkelling, and provisions for island hopping.
Brando really wanted to go eco-friendly on his property so necessary adjustments were made to make sure that the beauty of the surroundings was preserved. It also highlighted the Tahitian culture that thrived in the area. Brando was one of the biggest stars in his time, not to mention one of the most handsome. Even in his advanced years, he has landed some of the most outstanding roles, like in The Godfather and many more. A true legend deserves paradise.
Miley Cyrus | Jet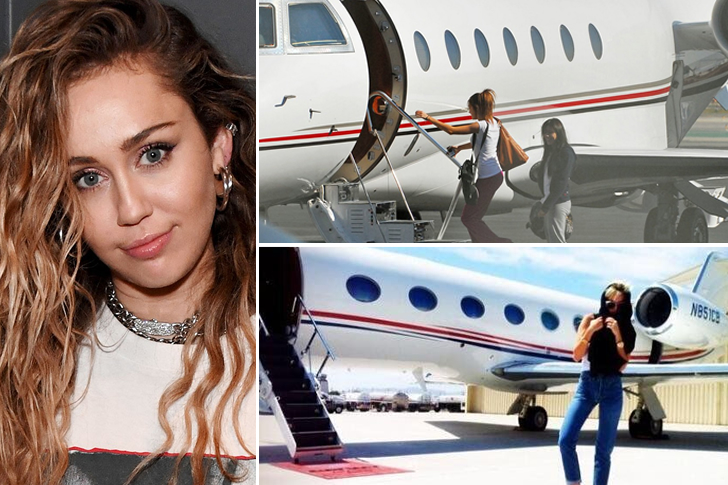 Ever since Miley Cyrus debuted in the industry as the Disney character Hannah Montana, she has been a Hollywood mainstay. With her versatility as actress and musician, along with her undeniable talent, she seems to just be gaining popularity with each release. Cyrus has been living the life of a popstar for most of her life. She always had access to Hollywood luxuries ever since she was a child because of her celebrity parents, but the list of opportunities just got a degree longer when she became a celebrity herself.
She was seen in private jets multiple times. One time, she was even photographed vacuuming her own jet in her pajamas. In another snapshot, she was spotted travelling with her mother Tish and her sister Brandi. People may not take Miley so seriously because of her rebellious looks and behavior, but deep down, she has one of the most compassionate and giving hearts in Hollywood. She's also very smart in her investments.
Drake | Jet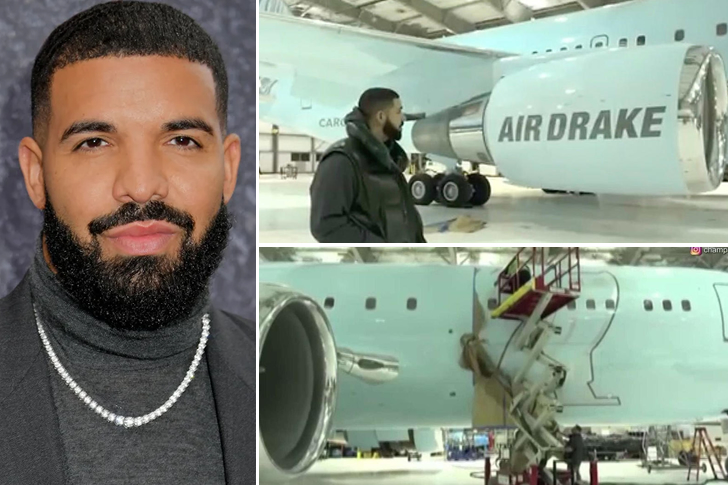 When you're a superstar, you get endorsement deals that are off the charts! Singer Drake already had a net worth of $180 million but Cargojet offered him a sweet deal that included a Boeing 757. He got his private jet for free and all he had to do was show it off! It probably cost around $200 million and had a gold-themed interior and leather seats. The exterior of the plane had "Air Drake" and the singer's logo on it, too.
It's no wonder Drake doesn't hesitate sharing it with everyone on Instagram and he always posts about his adventures in it too. The company may have made a big investment in this partnership, but Drake is a huge influencer and the benefits are guaranteed. Drake is one of the few artists who has a soaring records of album sales, along with Michael Jackson and Elton John. This young legend sure knows how to fly!
Nicolas Cage | Island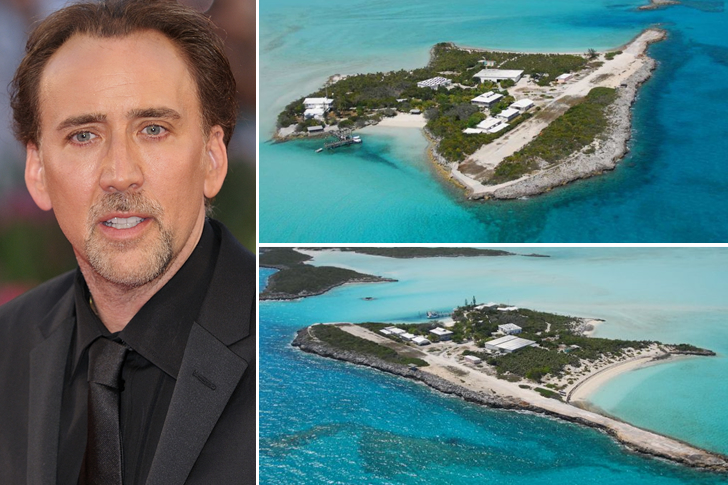 Nicolas Cage may need some help with money management given his lavish purchases. Over his career, he has amassed a huge amount of money and was even able to buy Leaf Cay, a private island covering 40 acres in the Exuma Islands, Bahamas. However, he had some financial issues to deal with so he wasn't able to proceed with developing the island into the tropical paradise that he imagined. Leaf Cay is now up for sale in the market for $7 million.
It has a gorgeous beach and that wonderful Bahamian weather that makes it the best summer getaway. It's a shame Cage had to give it up. We wonder how he would have made it look if he didn't have to sell it! Cage is one of the biggest names in Hollywood. He is famous for his many loud voice, his acting, his action skills, and so much more. Now, he is even more famous with his new baby – his island!
Jimmy Buffett | Jet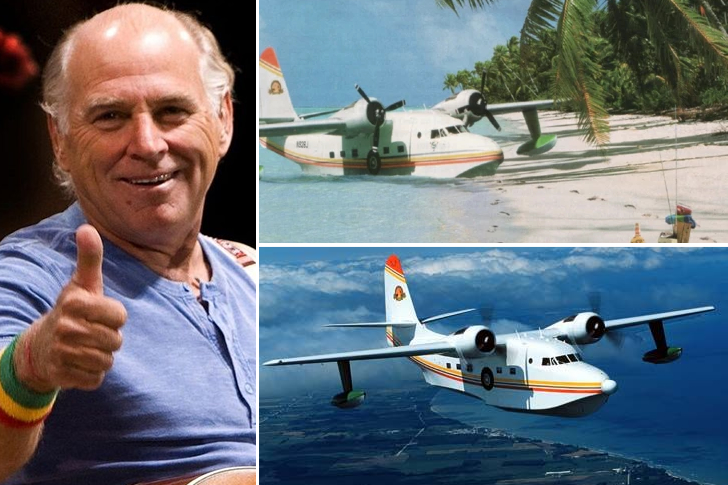 Musical genius Jimmy Buffet doesn't only sing and write songs. He also likes to fly around in his vintage aircraft. Did you know that he's also a prolific businessman? No wonder he can afford expensive hobbies! He has a restaurant in Orlando, Florida and proudly displayed beside it is his plane, "Hemisphere Dancer". The plane is a 1990 Grumman HU-16 Albatross that he got for $62,180 back in the 90's. He is constantly working on restoring the aircraft and maintaining it so it would continue to serve him for years.
Since he is also a licensed pilot, Buffett can take to the skies and go wherever he wants to, whenever he pleases. He can even take his family along for the ride. This singer-songwriter often lives an island escapism life together with his passion for coral reefs. No wonder he decided to invest in this jet; he can have a getaway anytime he desires!
Steve Jobs | Jet (DUPLICATED ITEM, DIFFERENT CONTENT)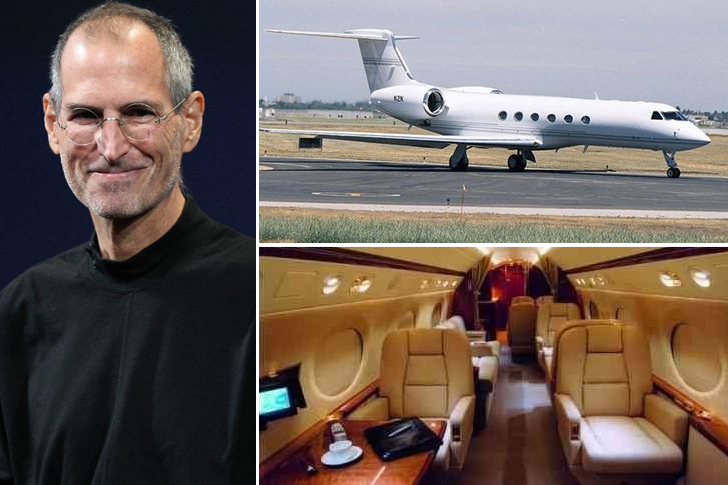 Whenever we mention Steve Jobs, we often associate him with the technological powerhouse that is Apple. Many people think he is the one who started the company but it was, in fact, Steve Wozniak. Jobs, however, had a significant part in growing the company and making it the giant that we know today, through his marketing strategies.
He also gets credit for making the iPod, the iPad, and the legendary iPhone. Because of this, Apple gave him a huge chunk of shares and his very own Gulfstream V. Jobs used to travel by plane for both travel and leisure. We think this is a well-deserved gift, considering his contributions to technology in general. He may have since passed, but even now, his legacy inspires many. Even without his biopic that was released not so many years ago, everyone in the world knows who Steve Jobs was. He had all our credits for his impressive creation, and he sure deserved all the jets in the world!
Roger Waters | Island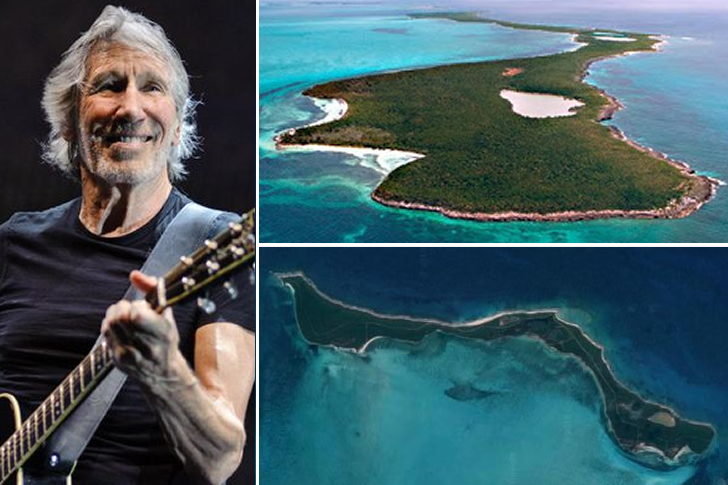 Pink Floyd member Roger Watersmade an interesting investment along with Columbian singer Shakira. The two musicians purchased Bonds Cay, an island in the Caribbean, for $16 million. Their plan is to put up a luxury resort that will cater to visitors from all over the world. On top of this,they also want to sell prime properties along the coast of the island and at the same time, promote local culture.
The island features three bays and five beaches, as well as waterfalls for people to enjoy! To the east, the ocean is clear as day. Bountiful coral reefs can be found in the blue waters, while the other side of the island has shallower water that is perfect for fishing. Aside from being a singer, composer, bassist, producer, there's another title we can call this English legend – that is, island owner.
Tim McGraw and Faith Hill | Island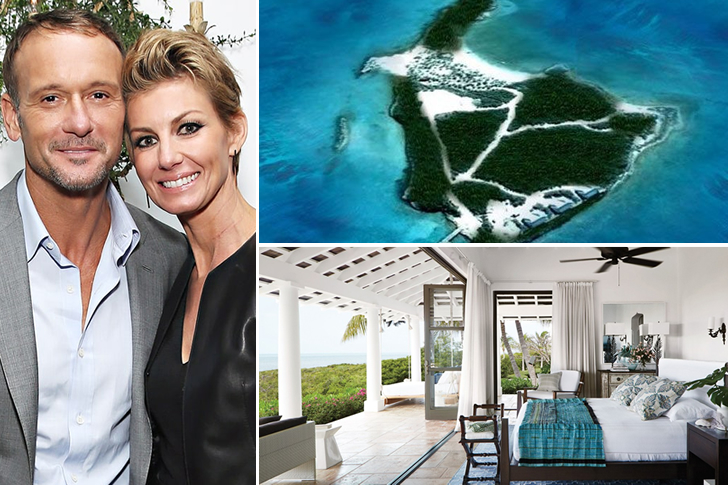 Country music royalty Tim McGraw and wife Faith Hill have inspired so many with their music and their love story. Over the years, they have gained a lot of fans. Their talent and hard work helped grow their individual net worth over time. With this money, they decided to buy a private island for their growing family. They bought Goat Cay, an island in the Bahamas for $1.2 million. As they are both lovers of the beach and its crystal clear waters, the couple built their holiday home on the island.
The process took nine whole years! Their investment planning might have progressed slowly, but they are very happy to have a place in this island paradise to call theirs. These two have one of the most amazing love stories in Hollywood. Aside from having minimal to zero controversies in their marriage and having extraordinary talents and looks, Faith and Tim have a secret paradise of their own and they deserve every square foot of it!
Elon Musk | Jet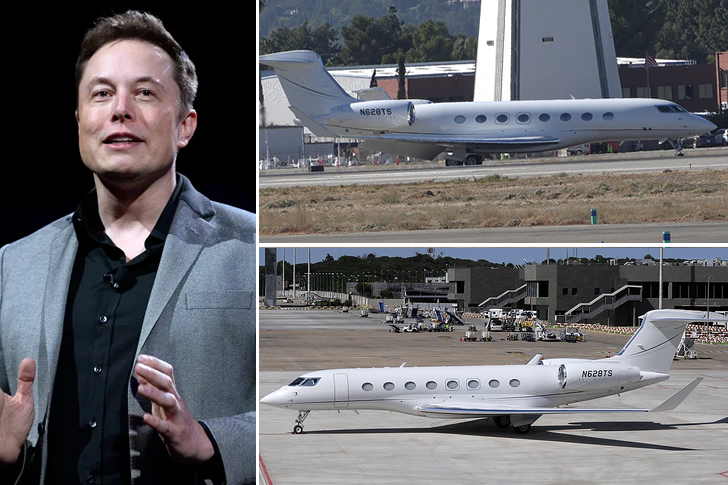 Being one of the wealthiest celebrities around, Elon Musk only travels in style. He has launched a lot of entrepreneurial pursuits in the 2000s like Tesla and SpaceX, which both grew before our eyes. His hugely successful career is thanks to his great brains and talent, but he also had guidance from his financial advisors for money matters. Since he became a high profile personality, he has been travelling via his private jet only.
With one glance of his jet, we can't blame him. We would be riding that thing like crazy if we were the certified owners. He has a Gulfstream G650ER that he bought for $70 million and he has used it forever 150,000 miles in 2018 alone. Sometimes, Tesla even covers for his travel costs as the company reportedly once paid up $700,000 for one of Musk's trips. Whether it's for business or pleasure, no one can confirm.
Larry Ellison | Jet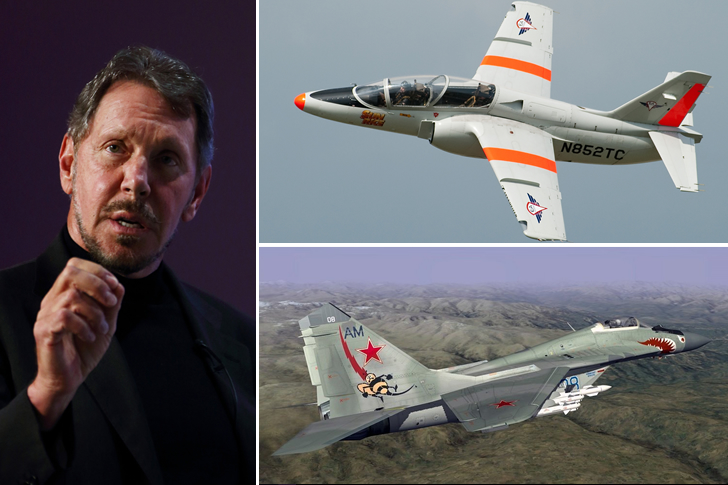 Oracle creator Larry Ellison is one of the wealthiest moguls in the world right now, but what most people don't know is that he also gets credit for being a licensed pilot. In his possession are a Soviety MiG-29 that is no longer in commission and a SIAI-Marchetti S. 2.11. Though these aircrafts are undoubtedly valuable, they come with restrictions. The MiG-29, specifically, is not allowed to fly within U.S.A. territory because the government considers it as a weapon!
He is a skilled stunt pilot, while his son David has been flying with him ever since the boy turned 13 years old. Since the planes will be given to him as an heirloom in a few decades, he might as well learn from the best! He not only has an impressive fortune to pass on, he also has a clever mind for investing his assets into this jaw-dropping engine that is so one-of-a-kind!
John Lennon | Island

The Beatles star John Lennon is recognized as one of the greatest musicians of all time. He got fame and fortune from his successful career, but not a lot of people know that he also bought himself a private island off the coast of Mayo. Dorinish Island is a paradise located in Ireland that stretches out across 19 acres. It was bought by Lennon in 1967 and his lawyer said he was planning to build a lovely home with his wife Yoko Ono there. According to Ono, she and Lennon both fell in love with Dorinish at first sight. They felt as though the pressures of their careers were far away whenever they were there.
At present, there isn't much information available about the island's current status. Everyone knew who John Lennon was, everyone knew he had an island, everyone knew his band and his wife, and everyone knew about his passing. He is a legend, and all we can say is this island was so lucky to have had him as an owner.
Jeff Bezos | Jet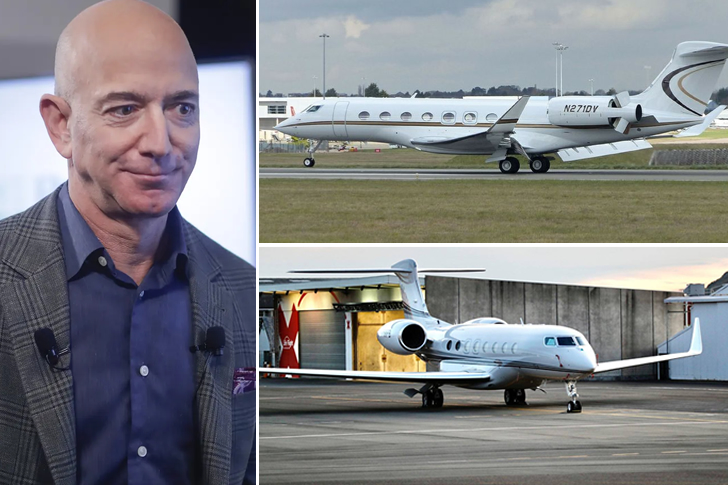 Founder of the popular online shopping site Amazon, Jeff Bezos, is the richest man in the world right now. As such, it's not too surprising that he owns his own private jet, which he likely uses for both business meetings and private getaways. He has a Gulfstream G650ER that he acquired for $65 million worth of investment money. He customized the plane to his own preferences, though so the overall cost was probably around $70 million.
His plane has a twin engine and can fly up to 7,500 nautical miles in a single trip. On top of that, it can also accommodate up to eight passengers comfortably. A busy man like Bezos certainly needs an efficient way to travel and a jet is the best solution for that. He is not only a rich man and a jet owner; he is also a philanthropist. He will always be remembered as the CEO to the number one company/site in the world – Amazon.
David Beckham | Jet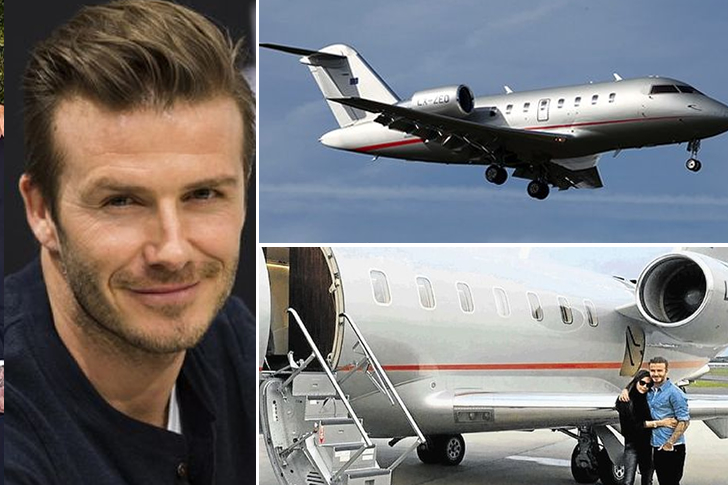 Soccer superstar David Beckham is certainly living the lux life. Not only is he able to enjoy a lavish lifestyle, he can now avoid long queues and sharing space with strangers. How? Well, he has his own Bombardier Challenger 350 to take him to his travel destinations anywhere in the globe. He has been spotted aboard the private jet numerous times. This just proves that Beckham has taken very good care of his assets and his money management is on point.
Aside from this, he is also generous with his blessings. When his son had a game in Germany, he shared his aircraft with the entire team and their parents. It goes without saying that he is also a very supportive dad! David is constantly being photographed with his daughter and how sweet he acts with her. David's investment in the jet is what he deserves for being a good dad and husband to the wonderful Posh Spice!
Robin Williams | Island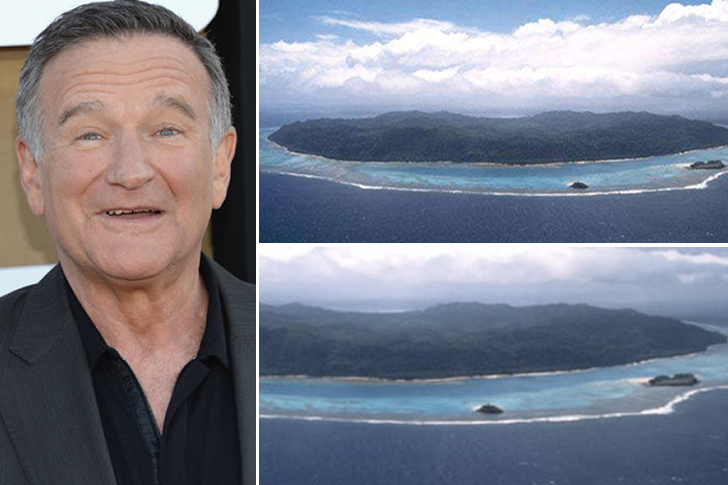 Comedian and dramatic actor Robin Williams is most loved for all the work he has done for the film industry. He left us a legacy of outstanding performances and touching stories. Throughout his career, he has amassed a net worth of $50 million. After all, he has had numerous blockbusters over the years. Like any other movie star, Williams also wanted a getaway from all the stress and pressure of the city. This was probably one of the reasons why he bought a private island. He acquired one located in British Columbia and was said to frequently visit his property there.
While we're not sure what happened to the property of his passing, we hope it provided him with what he needed at the time. After all, Robin was one of the most successful comedians of all time. He had his own style and personality which worked quite well for the world. His famous films include Dead Poets Society, Aladdin, and Mrs. Doubtfire.
Shakira | Island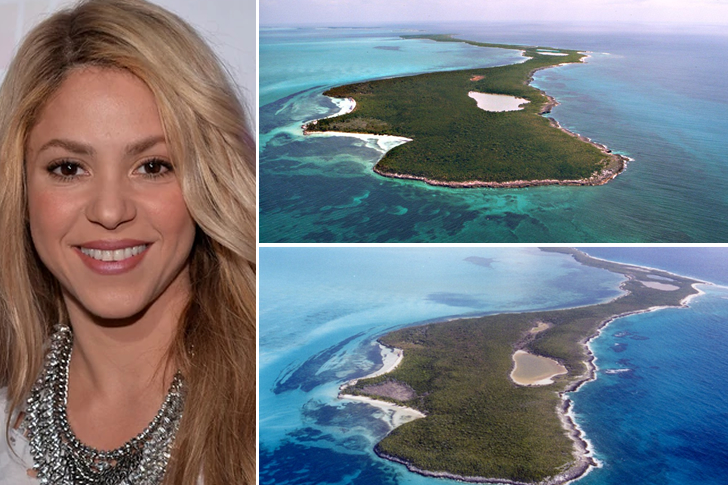 Singer Shakira has a property in the Bahamas called Bonds Cay. The vast island was said to have been bought at a market value of $16 million. It comes with 700 acres of land, which was developed to house luxury accommodations, and become a well-rounded tourism spot. Complete with hotels and a golf course, the island was created to attract visitors from all over the world. Shakira owns the island together with Roger Waters and Alejandro Sanz. She even had to hire a lawyer because her ex-boyfriend Antonio de la Rua wanted to remain a part of the deal even after they broke up.
The court proceedings were quite vicious and highly publicized, but it was settled in the end. It is no surprise that Shakira is on this list – aside from being very rich and famous, she's one of the celebrities who has wanted to keep her private life private, even her long-term relationship. If owning an island helps her get away from all the screaming fans in the city, then she definitely invested in the right thing when she bought this island.
Johnny Depp | Island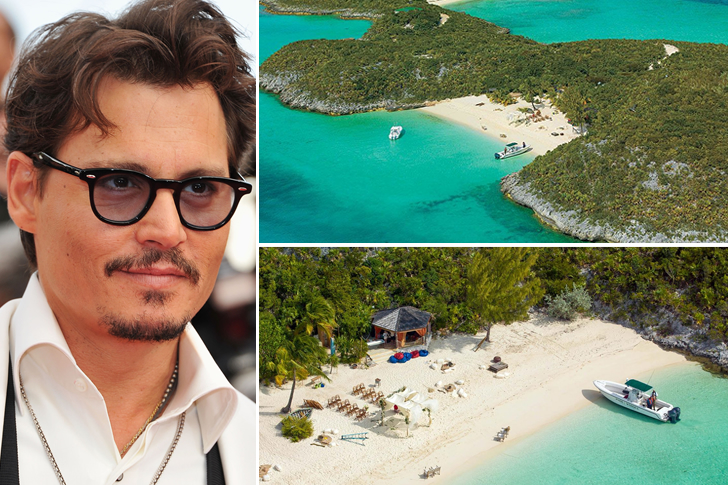 If movies affect viewers to a certain degree, what more could it do to the actors that are part of it? Johnny Depp did not just fall in love with playing Captain Jack Sparrow in The Pirates of the Carribean – he also kept a piece of the character with him. While filming, he discovered Little Halls Pond Cay and decided to buy the island because he liked it so much. He paid a hefty $3.6 million for the property in 2004 when he was still with actress and singer Vanessa Paradis.
The island is a sizeable 45 acres and is surrounded by the clear waters. Located in the Exumas of the Bahamas, Depp developed part of the land into a home that ran on solar energy. Depp might have experienced a few setbacks and controversies lately, but at the end of the day the phenomenal actor can always escape to his own little paradise away from all the hassle and stress in life.
Kanye West | Jet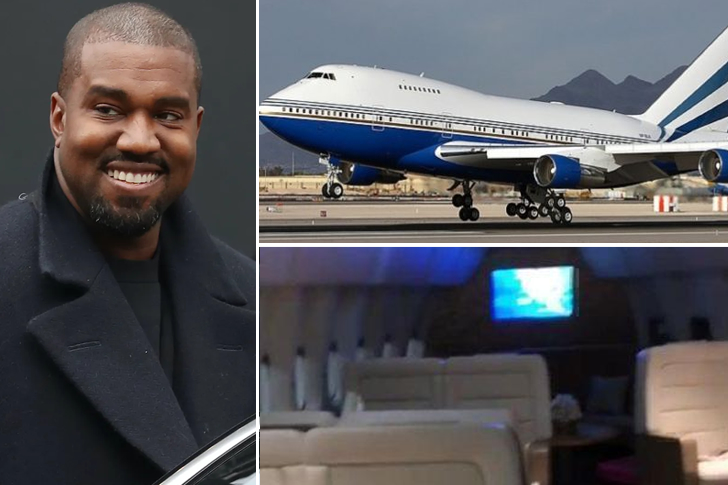 Being a huge celebrity has its perks. Aside from earning millions of dollars, they also get easy access to some unique experiences. Kanye West, for example, got a luxurious present from Adidas. Apparently, the company gave West a luxury 747 plane to serve as a "Yeezy floating office." The rapper's customized aircraft has a marble bathroom, a double-bed suite, a dining area, lounge area, guest rooms, and of course his own office. According to Travel + Leisure, a normal 747 could actually seat 660 passengers if it was a commercial airline.
However, Kanye made the whole aircraft his own and added personal touches throughout. We don't doubt that he brings his wife Kim Kardashian and their four kids aboard all the time too. KimYe is one those couples who have always been the center of every conversation. They seem to always give people something to talk about. Have we not realized that their jet is the most deserving of all the attention and gossip? We're just saying.
Lewis Hamilton | Jet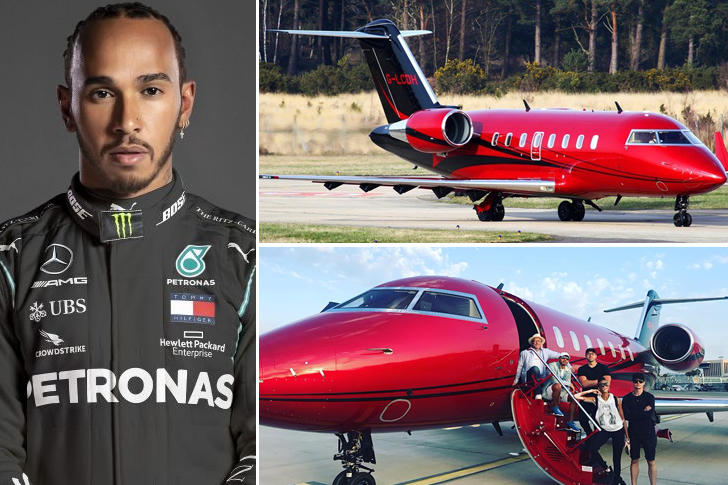 Back-to-back Formula One champion Lewis Hamilton really likes his vehicles fast and flashy. He has a fleet of expensive sports cars to choose from when he wants to go around on land, but he also has a private jet if he needs to fly. He made a huge investment toward his very own Bombardier Challenger 605 that he bought for $25 million. When he needs to travel anywhere around the world for a tournament, a business meeting, an endorsement or a relaxing vacation, he can easily make the trip aboard his plane.
Forbes said that his earnings from his tournaments amounted to $50 million in 2018 alone, so his new jet plane's steep price tag won't bother him too much, for sure. This handsome young lad is now not only known for his dashing good looks and wealth, or for being a racing driver, activist, fashion designer and musician, but also for his fabulous jet!
Ricky Martin | Island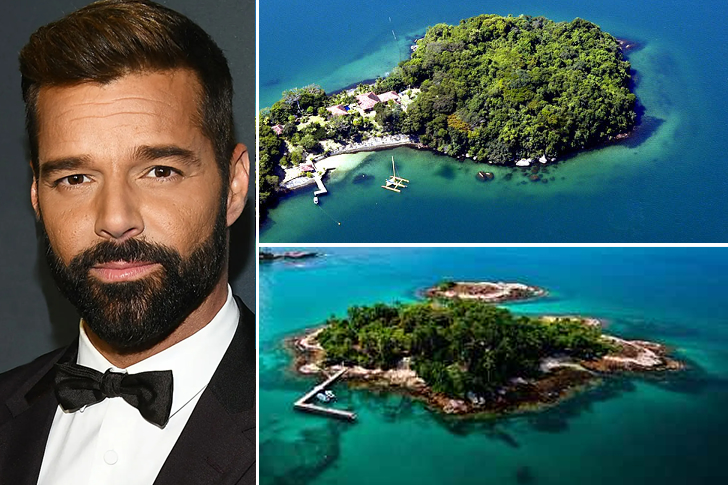 Proper money management really shows when you're able to make big ticket purchases and maintain them properly as well. It takes a while for people to learn this, but it certainly isn't impossible. Singer Ricky Martin really showed his skills when it comes to investing by managing his known assets quite well. Because he had more than enough in his bank, he was able to buy a private island in Angara dos Reis, an archipelago located in Rio de Janeiro. This tropical paradise became his, for a price tag of $8 million in 2008.
With his husband Jwan Yosef in tow, the couple really must have a great time in their beautiful relaxing sanctuary. By the looks of it, the property is worth all that money. Ricky Martin brought a whole new perspective to the world of Latin music. He is a young legend who changed the world of Hispanic songs forever. His investment in this paradise is something that is very well planned and very well deserved.
Celine Dion | Jet (DUPLICATED ITEM, DIFFERENT CONTENT)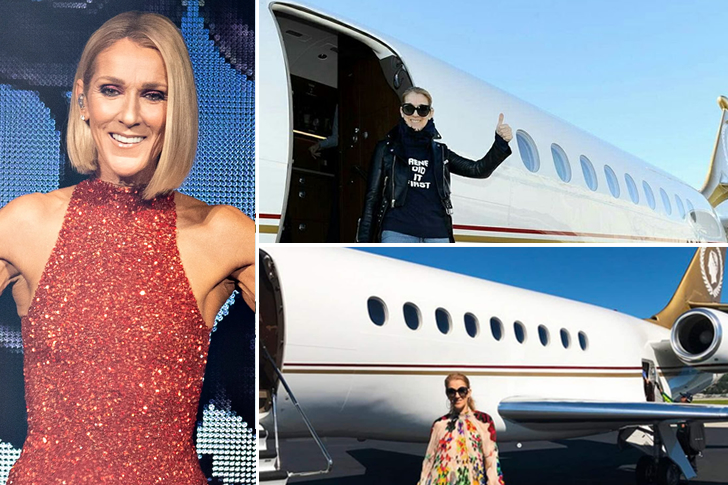 Many superstars get the opportunity to go on lavish experiences and have access to luxuries that are exclusive to only them, but Celine Dion takes this perk a degree further. With a net worth that is close to a billion, it does not surprise a lot of people that she lives and breathes luxury every day of her life. The legendary diva is known for her exquisite taste and classy lifestyle, so she really puts her money to good use. She bought her own private jet to make sure she, and her family, are able to travel comfortably and safely. She owns a Bombardier BD-700 that she purchased for $42 million.
The plane has enough room for up to 14 guests. She even travels with her personal chef! Celine might have made a few bad choices lately in her life but that was only because of the passing of her late husband. The superstar and niece of legend Barbra Streisand clearly got back on track with her correct investments, undying golden voice, and her jet.
Diana Ross | Island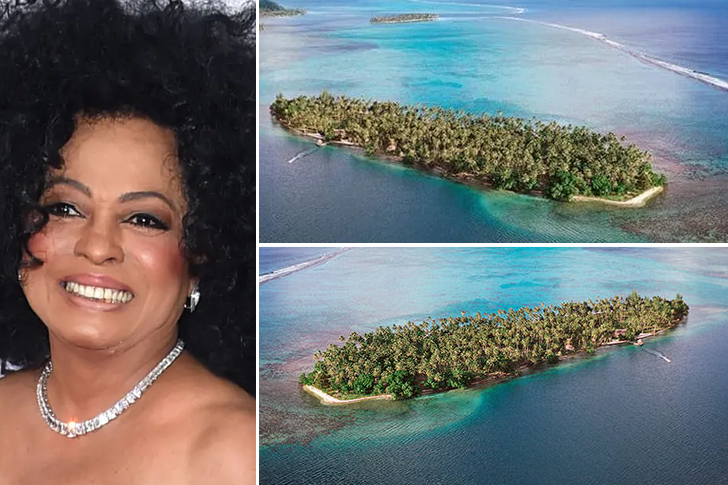 Most people buy a private island so that they can have a place to go to when they want to get away from the hustle and bustle of the city. The pressure, the stress, and the pollution are some of the things that most celebrities and businessmen want none of when they are on a vacation. However, when Diana Ross bought the island named Tiano, she turned it into a second home. More than just a vacation spot, she spends a lot of her days there, basking in the sun and living worry-free.
The island is located in French Polynesia and comes with her own personal villa. There are also guest houses, ensuring that she will be able to share this paradise with loved ones. The French Polynesia is an area which contains the best islands, credits to its amazing waters and an extraordinary ambiance. The area may be swarming with tourists, but this supreme legend doesn't have to worry about that anymore since she's got her own paradise out there.
Aristotle Onassis | Island

In today's world, it is normal to hear about a wealthy entrepreneur or a popular celebrity purchasing their own private island. Back in the day, however, it wasn't as easy to do. Aristotle Onassis was one of the first few people who bought a private island for their own use. It was back in 1986 when he placed investment money on Skorpios Island, which he later passed down to his daughter Athina.
It was a family asset that they probably held dear given all the family gatherings that have been held there. Just imagine all the memories they created! Athina sold it some decades later for around $150 million to Ekaterina Rybolovleva, though. But we're sure the family's happy memories still remain. He not only captured the heart of Jackie; he also captured all of our hearts with how enchanting this island of his was.
Bill Gates | Jet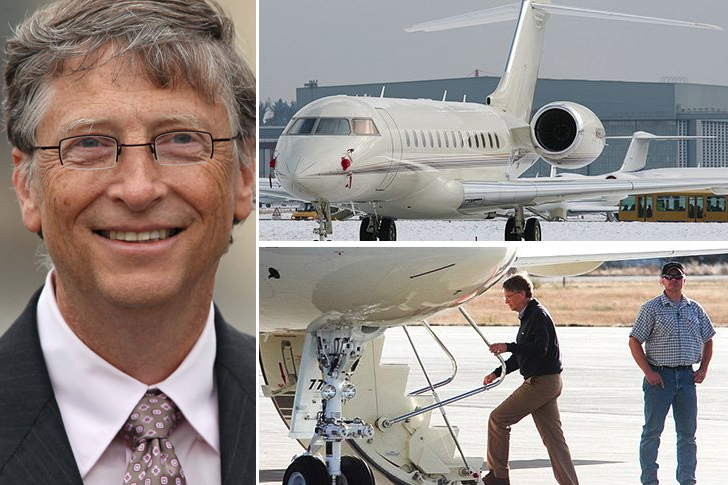 Bill Gates is not only one of the wealthiest men in the world, but also one of the most popular. He is a high profile personality who needs ample security, so it is only but fitting that he travels in a private jet. The plane that he owns is a Bombardier BD-700 Global Express. He made an investment of $40 million to purchase the plane, which he often uses to go to his important international meetings and his own private getaways with his family and friends. It certainly is comfortable and convenient.
The aircraft can travel over 6,000 nautical miles on a full tank and is equipped with a Rockwell Collins Pro Line Fusion avionics system. Only the best of the best will do for someone like Gates. There was a time, maybe more than a dozen times, when Gates was undefeated for the title of wealthiest man in the world. Now, he is still one of the wealthiest men in the world, and the busiest as well. He sure can use a jet or two to reward himself for everything that he's done.
Mark Cuban | Jet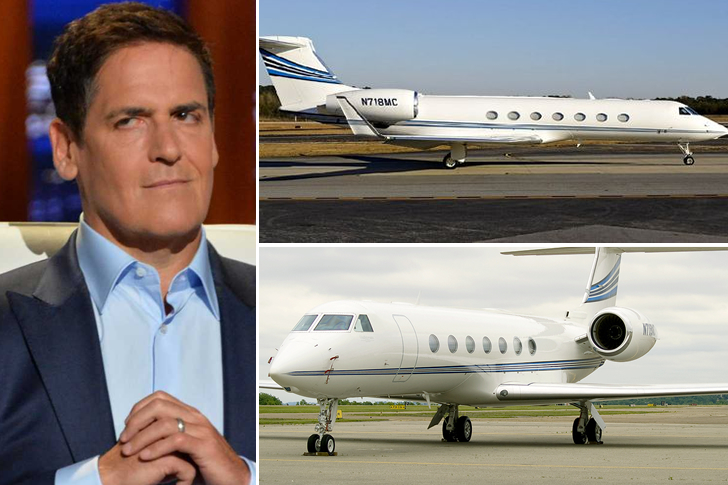 Mark Cuban is a genius when it comes to the stock market. No wonder he's managed to make millions through it. He also holds the Guinness World Record for the biggest single e-commerce transaction. He was able to make Yahoo put investment money amounting to $5.7 billion toward Broadcast.com. It was not only the largest purchase that Yahoo has made, but also the worst one. They didn't have much use for the website after a while because it wasn't as relevant to the times anymore. Meanwhile, Cuban earned so much that he got himself a private jet. He was able to buy a Gulfstream V Business jet from this transaction.
Other than his fancy plane, he even added a superyacht to his fleet! We all know him as American billionaire entrepreneur, television personality, media proprietor, investor, and being constantly feature inside Forbes magazine. What we do not know is his investment in this jet which is not shocking, but still very jaw-dropping at the first glance.
Dean Kamen | Island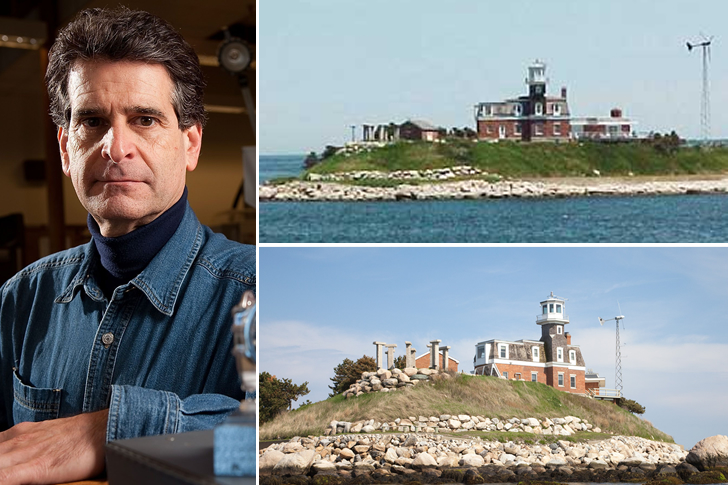 Dean Kamen or "Lord Dumpling" owns North Dumpling Island, an isle located off the coast of Connecticut. He made headlines when he gave himself credit for creating the first fully self-powered island in the world. He is the man behind the popular Segway electric scooter, among other cool inventions. This is why not a lot of people doubted his claim. He is a brilliant engineer, inventor, and businessman. Kamen holds over 1,000 patents. He also has a generous heart; he has a nonprofit organization called FIRST that inspires aspiring students in STEM.
His own home on the island is a lighthouse that, like the rest of the property, uses a lot of solar panels and LED lights. His personal initiative to create an eco-friendly environment is really impressive. It could provide a blueprint for the rest of the world to follow. The United States Department of Energy even gave him their approval.
Mark Zuckerberg | Jet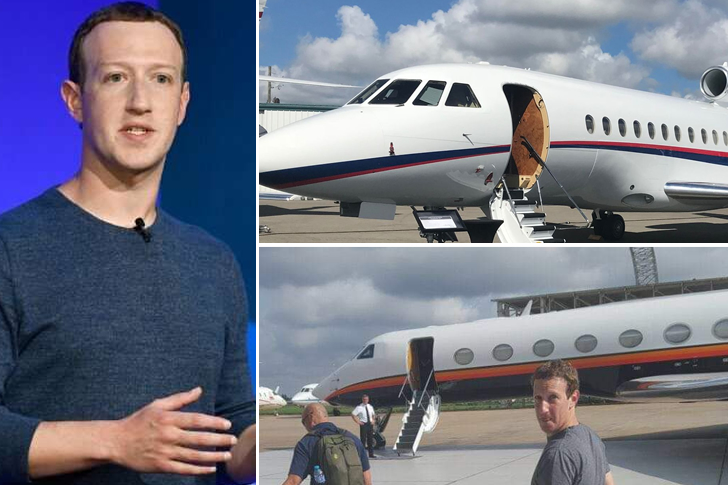 Being the creator and the CEO of the biggest social media platform in the world requires special provisions. In particular, he must make sure his security is top notch. This is why it's understandable for Zuckerberg to travel privately, instead of commercially. For him, this is especially true because he travels a lot for business meetings, talks, public appearances and other engagements. According to sources, Zuckerberg does not actually have his own private jet, but his company Facebook spends a lot of money on his home security system and private air travels. They spent around $23.4 million in 2019 alone.
Are the costs justified? Considering his position and the influence he holds, we must say that it is. He is the backbone of the company, after all. This young CEO is known to keep things lowkey, just like his marriage and wedding. In fact, during his Christmas Eve celebration, he had just less than ten friends and loved ones over. When it comes to having a jet, we're guessing he doesn't hold back. Besides, we should be happy for him and give him all the credits for giving us the world's largest social media platform.
Brooke Shields | Island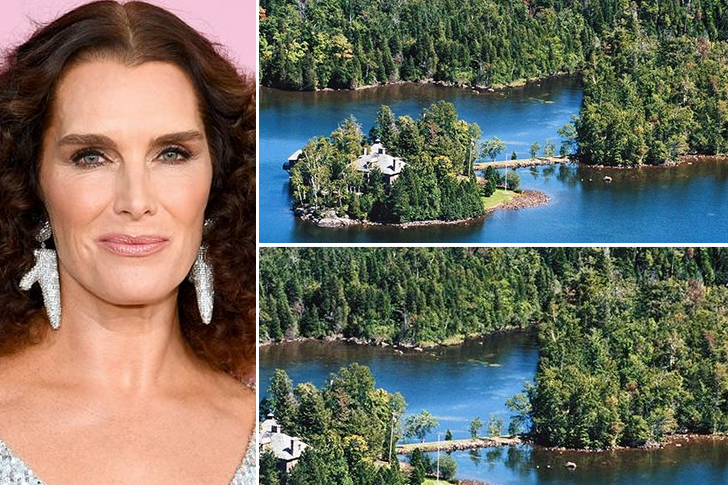 If you think of Brooke Shields as just a pretty face and a sweet leading lady with only beauty products and designer clothes in her mind, think again. There has to be a smart investor underneath those eyebrows. Unlike other private islands located in tropical places around the world, Brooke Shields' private sanctuary is a rustic wonderland. Emerald Island, located in New York, looks like it had been pulled out of a fairytale. The island is 8.5 acres in size and houses a mansion made of old stone, wood, and brick chimneys.
The house is beautiful all by itself but its surroundings really complete the picture. The Old English ambiance of the place makes it feel like you are far from the busy city. The actress has been residing in it for years. Is this the real secret to her still youthful looks? Being close to nature will make a difference when it comes to one's mindset, creating a degree of serenity and peace of mind.
Alex Rodriguez | Jet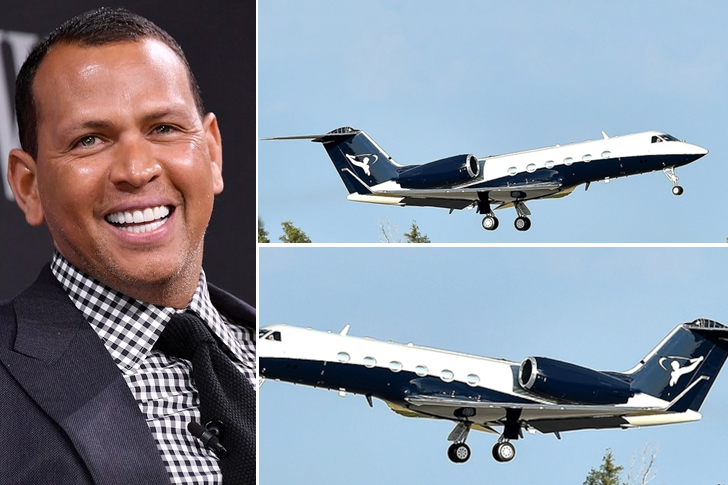 Alex Rodriguez was already cruising around in a Learjet 60 but he acquired a brand new Gulfstream IV as an upgrade. Well, there's no surprise there since he does have the means to do so! His new plane sure has better specifications than the older one. It has twice the flight mileage of his Learjet, ensuring that he can go to more places without having to refuel. If he has to go to other countries, especially, this is more environmentally-friendly. It can also seat up to 14 passengers so he can easily bring along Jennifer Lopez and the kids to both business and pleasure trips. As with anything involving travel, we sure hope they have proper insurance before doing so!
His life fell into place when he decided to retire from the sport of his dreams and invest more of his time in his kids. He must have been over the moon when the incomparable triple threat mega star J.Lo became his fiancée. A-Rod deserves this jet more than anyone!
Eric Clapton | Island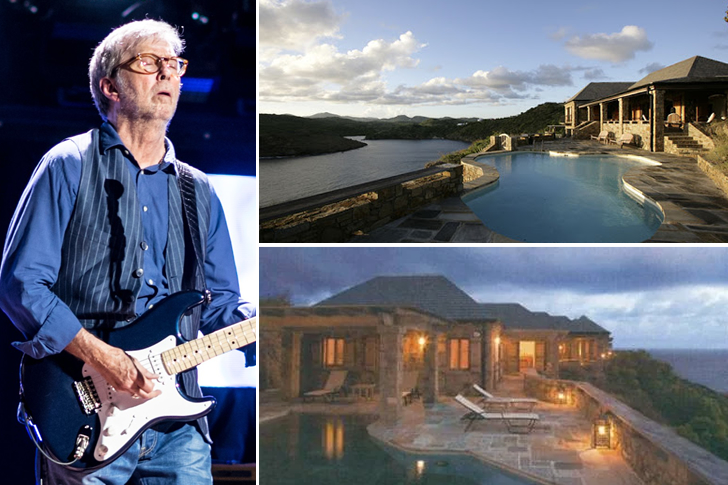 Eric Clapton made an impressive investment on Standfast Point, a 45-acre island south of Montserrat and Guadeloupe. He developed the place to include a complex of four buildings that houses the main area, the owner's quarters, the guest's rooms, and the house of the caretaker. The property has swimming pools, a billiards table and al fresco dining areas so they can eat outdoors and really appreciate the beauty of the place. The stunning view from the main house includes the ocean and the gorgeous coastline.
The other islands nearby can also be seen from the top floor. The residence is perfect for families seeking a weekend getaway together. Surely, Clapton and his family have made so many great memories here. At 75 years old, Clapton is a legendary rock and blues guitarist, three-time inductee to the Rock and Roll Hall of Fame, and is the bearer of the prestigious CBE award. Not to mention, he is also a clever investor with this paradise!
Mel Gibson | Island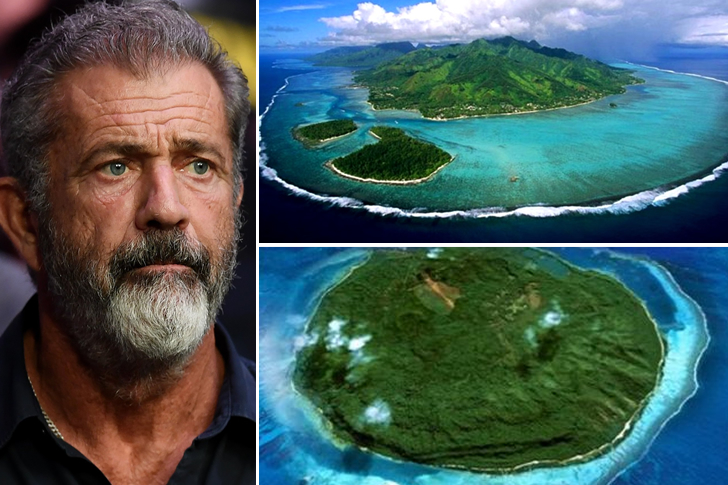 Some celebrities and businessmen buy private islands asinvestments. They develop the place and put up establishments that will, hopefully, bring in tourists and revenue. Other high profile personalities, however, treat it as a secondary home – a place away from the limelight where they can enjoy their privacy to the utmost.
Mel Gibson bought Mago Island, an isle in Fiji back in 2005 with this in mind. He didn't bother developing the island to turn it into another commercial business area, because he wanted it for his own personal sanctuary. It is a must for one's mental health and if you had the means, wouldn't you do the same? It cost him$15 million to purchase the island, but he sure enjoyed every penny of it. Many people might have heard about his personal struggles and health issues. What most people don't know is that, when it comes to investments, Gibson is actually pretty clever and successful – his island is proof of that!
Angelina Jolie | Island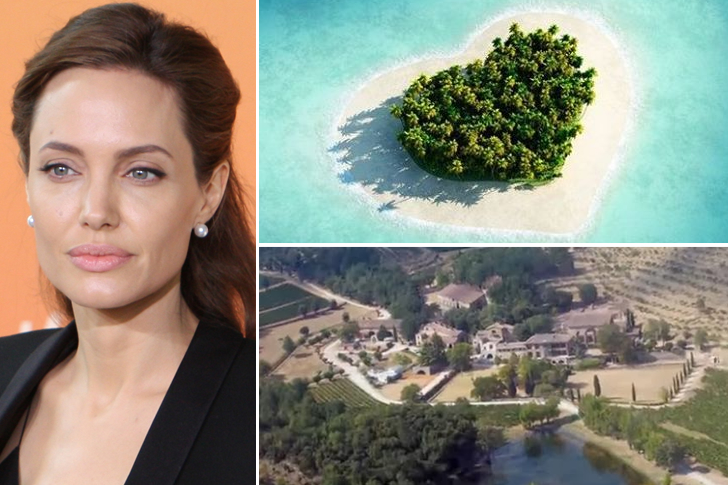 When you're one of the industry's highest paid celebrities, giving an entire island as a gift to your loved one is something you'd be able to do. When talk came out that Angelina Jolie gave her then-husband Brad Pitt Petra Island for his 50th birthday, we all swooned over the gesture. The beautiful island was unique because it was shaped like a heart. It came with a hefty price tag of $14.9 million, but with the Hollywood couple's net worth, they probably saw it as a worthy investment in their relationship. Well this would have been the case had she actually purchased it. Turns out, while she can very well afford it, the actress did not invest money in it at all.
Instead, she found new investments somewhere else. Perhaps these are things that are dearer to her heart, ones she is more passionate about. One thing's for sure: Angelina is an amazing woman!
Jackie Chan | Jet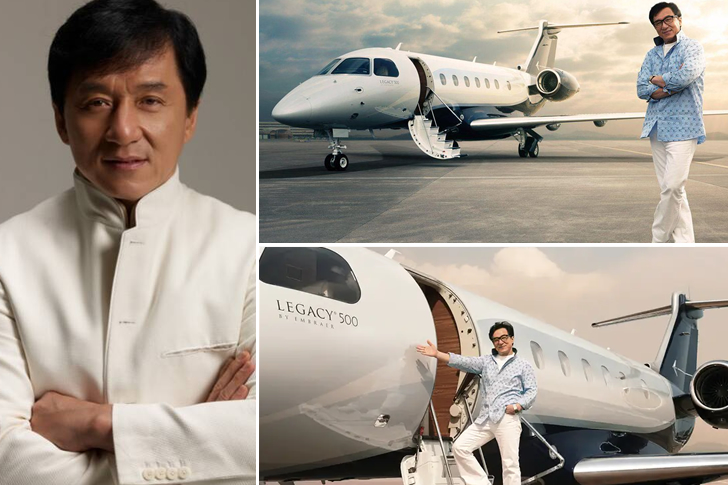 Jackie Chan might not be as prolific as before when it comes to film projects, but he should receive credit for doing plenty of behind the scenes work. Aside from producing films, he has also many other business ventures. According to Forbes, his net worth is around $390 million. So is it surprising that he owns a private jet? For a man like him, investing in one will prove to be beneficial in the long run. He'll save plenty on commercial flights and can conveniently travel without worrying about schedules.
He owns an Embraer Legacy 500 that is worth $20 million. This isn't the first and only aircraft that Chan has ever bought, too. Jackie is not only known for his legendary stunts in his own movies and being the pride of China; he is also known for being a great investor. An example of this is his jet! Needless to say, the actor is one who works quietly toward making money.
Richard Branson | Island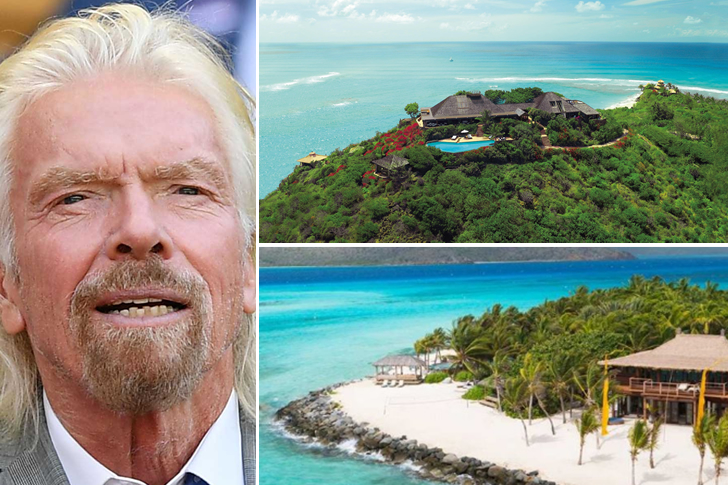 Richard Branson is known for his luxurious lifestyle. We already know that he has a private jet that he can use to fly to anywhere in the world. What use would the jet be if he doesn't have a great destination to go to? For this, the mogul also owns a private island where he often vacations. He owns Necker Island, an oasis located in the British Virgin Islands where a lot of big names go to for a weekend getaway. Barack and Michelle Obama are known to have spent some time there, among other high-profile celebrities. It makes us wonder just how much money has invested in the island. One thing's for sure though, he didn't need a loan for it.
At a young age, Branson already knew that he had a love for entrepreneurship. Now, along with being an island owner, he is a business magnate, investor, author and former philanthropist. In the 1970s, he founded the Virgin Group, which is now one of the biggest conglomerates in the world. Dreams do come true when you have your heart set on it.
Neymar | Jet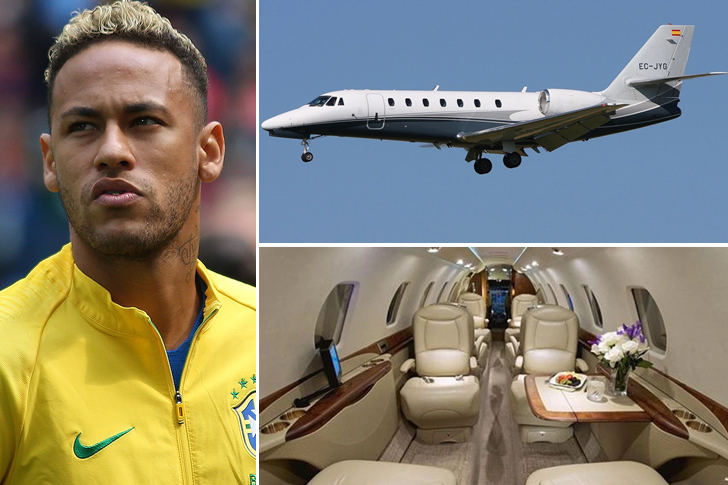 Some people like to go the extra mile and buy a private jet rather than fly commercially for a number of different reasons. Meanwhile, there are others, like professional soccer player Neymar, who take things a step further by purchasing two private jets instead of just one. It's definitely nice to have options, right? Neymar would certainly agree, because he can take his pick between his own Phenom 100 that he bought for $4 million and his Cessna Citation 680 that he spent $5 million on.
If these two aren't luxurious enough for you, the athlete also has a superyacht and a helicopter to his credit. Well, if you're a huge earner like him and have a bit to spare—you'll likely be investing in comfortable travel, too. Neymar is widely renowned for being one of the best athletes in the entire world, under all sports categories. Let's just say, he found a star jet fit for a star athlete!
Dan Bilzerian | Jet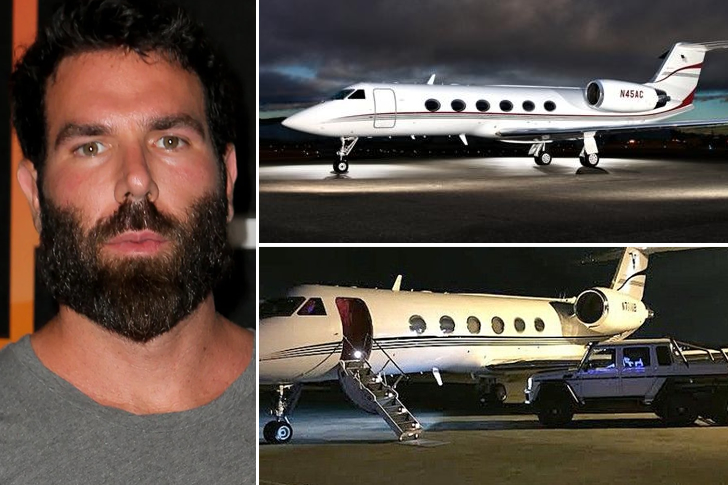 Dan Bilzerian is known for being a notorious poker player who leads an ultra-rich and lavish lifestyle. Although he was dubbed as an amateur when it comes to poker, he still has other investments and career going on. He is an "influencer" too! Hailing from a privileged family, he has always had financial stability and never needed to worry about things like loans. It's safe to say that a lot of things had been handed to him on a silver platter. He always goes on trips to Las Vegas whenever he felt like hitting up casinos, but unlike everyone else, he uses his private jet to get there.
He has a Gulfstream GI-V, which means he can fly whenever and wherever he wants to. Bilzerian reportedly spent a staggering amount of $6 million to make the purchase. Given his net worth, it's no surprise that he took the plunge.
Taylor Swift | Jet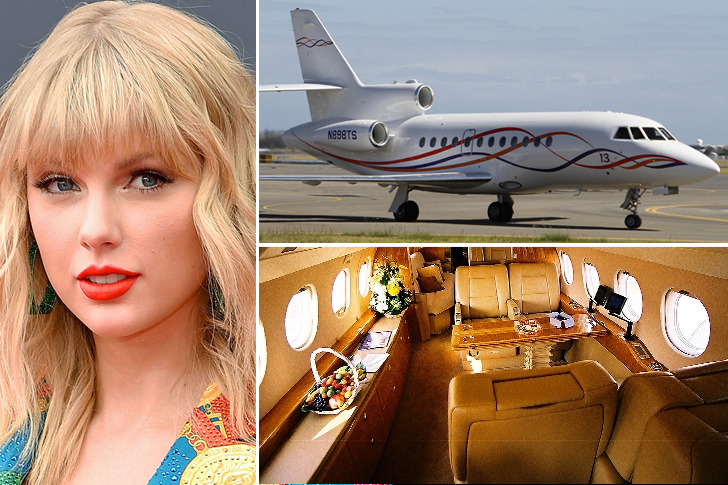 Taylor Swift isn't exactly known for spending extravagantly, unless we're talking about her real estate investments, but did you know that she has two private jets to her name? This includes a Dassault Breguet Mystere Falcon 900 that she got for $40 million in 2011 and a Dassault Falcon 50 that she acquired in 2012. Apparently, she needed two to make sure there will always be one available for her use. If one is undergoing maintenance, she can always use the spare. Purchasing one jet can easily put a person in the red, if they are not careful. There are maintenance costs and insurance that needs to be paid for, after all. As for Swift, she can afford that on top of getting her first plane customized.
A music magazine once named T-Swift as the music industry herself. We can't oppose, since she's one of the artists who has been on the top of album sales, concerts, and merch ever since the beginning of her career. Tay-Tay invested in these two babies that we can only get to ride in our wildest dreams.
You've Reached The End